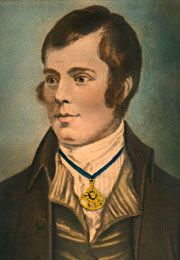 Bruce's Address to His Army at Bannockburn

TUNE--"Hey, tuttie taitie."
"There is a tradition," says the poet, in a letter to Thomson, enclosing this glorious ode, "that the old air 'Hey, tuttie taitie,' was Robert Bruce's march at the battle of Bannockburn. This thought, in my solitary wanderings, has warmed me to a pitch of enthusiasm on the theme of liberty and independence which I have thrown into a kind of Scottish ode, fitted to the air, that one might suppose to be the gallant Scot's address to his heroic followers on that eventful morning." This ode, says Professor Wilson--the grandest out of the Bible--is sublime!

SCOTS, wha hae wi' WALLACE bled,
Scots, wham Bruce has aften led,
Welcome to your gory bed
Or to Victory!

Now's the day, and now's the hour:
See the front o' battle lour;
See approach proud Edwards power-
Chains and slavery!

Wha will be a traitor knave?
Wha can fill a cowards grave?
Wha sae base as be a slave?
Let him turn, and flee!

Wha for SCOTLAND's king and law,
FREEDOM's sword will strongly draw;
Freeman stand or freeman fa',
Let him follow me!

By Oppression's woes and pains!
By your sons in servile chains!
We will drain our dearest veins,
But they shall be free!

Lay the proud usurpers low!
Tyrants fall in every foe!
LIBERTY's in every blow!—
Let us do, or die!