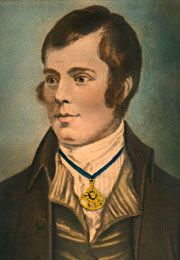 The Selkirk Grace
The poet having been on a visit to the Earl of Selkirk at St. Mary's Isle, was asked to say grace at dinner. He repeated the following words, which have since been known in the district as "The Selkirk Grace:"--
SOME hae meat, and canna eat,
And some wad eat that want it ;
But we hae meat, and we can eat,
And sae the Lord be thankit.
A grace before dinner

O THOU, who kindly dost provide

For every creature's want!
We bless thee, God of nature wide,
For all thy goodness lent:
And, if it please the, heavenly Guide,
May never worse be sent ;
But, whether granted or denied,
Lord, bless us with content!--Amen.
Grace after dinner

O THOU, in whom we live and move,

Who madest the sea and shore ;
Thy goodness constantly we prove.
And, grateful, would adore.
And if it please Thee, Power above,
Still grant us, with such store,
The friend we trust, the fair we love,
And we desire no more.