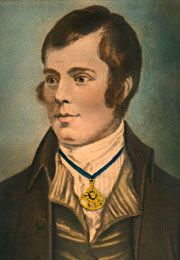 Invitation to a Medical Gentleman
To attend a Masonic Anniversary Evening

St. James masonic lodge was wont to meet in the small backroom of a cottage-like place of entertainment at Mauchline, kept by a person of the name of Manson. On the approach of St John's day, the 24th of June, Burns sent the following rhymed note on the subject to his medical friend, Mr. Mackenzie, with whom, it seems, he had just had some controversy on the subject of morals:-
FRIDAY first's the day appointed,
By our Right Worshipful anointed
To hold our grand procession ;
To get a blade o' Johnny's morals,
And taste a swatch1. o' Manson's barrels,
I' the way of our profession.
Our Master and the Brotherhood
Wad a' be glad to see you ;
For me I would be mair than proud
To share the mercies wi' you ;
If death, then, wi' skaith, then,
Some mortal heart is hechtin',2.
Inform him, and storm him,
That Saturday ye'll fecht him.