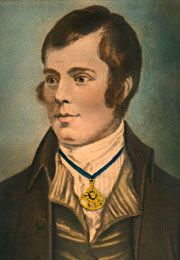 Oh, were I on Parnassus' Hill
TUNE--"My love is lost to me."
This song was also produced in honour of Mrs. Burns, shortly before she took up her residence at Ellisland as the poet's wife. It is thought to have been composed while he was one day gazing towards the hill of Corsincon, at the head of Nithsdale, and beyond which, though at some distance, was the quiet vale where lived his "bonny Jean."
OH, were I on Parnassus' Hill!
Or had of Helicon my fill;
That I might catch poetic skill,
To sing how dear I love thee.
But Nith maun be my Muse's well,
My Muse maun be thy bonny sel;
On Corsincon I'll glower1. and spell,
And write how dear I love thee.
Then come, sweet Muse, inspire my lay!
For a' the lee-lang simmer's day,
I couldna sing, I couldna say,
How much, how dear, I love thee.
I see thee dancing o'er the green,
Thy waist sae jimp,2. thy limbs sae clean, 3.
Thy tempting lips, thy roguish een--
By Heaven and Earth I love thee!
By night, by day, a-field, at hame,
The thoughts o' thee my breast inflame;
And aye I muse and sing thy name--
I only live to love thee.
Tho I were doom'd to wander on,
Beyond the sea, beyond the sun,
Till my last weary sand was run ;
Till then--and then I'd love thee.