References to Freemasonry in popular culture range from the vitriolic to the innocuous. Far more often they are merely misinformed allusions from which Freemasonry faces a far more insidious threat; that of being marginalized, trivialized, and fictionalized. Most of the references noted on this site are harmless, simply pointing out that Freemasonry has played a role in our society; some are humorous, yet some are disturbing in their associations.
Masonic references in the comics
---
Illustration reprinted from "Superman Adventures 34." Fighting Fate. August, 1999. DC Comics New York, NY. Mark Millar,writer; Mike McAvennie, editor; Frank Berris, Asst. editor. p. 21.
colour, 24 page plus gloss cover.
Archie Comics
Hiram Lodge, Veronica's rich father, first appeared in Pep Comics No. 31. Moose Mason first appeared in Archie's Pal Jughead No. 1 (1949). MLJ Comics, the forerunner of the Archie Series, was published by Morris Coyne, Louis Silberkleit and John Goldwater. L'assiette au beurre
(Buttercup) was a French satirical and anti-clerical magazine founded in in Paris in 1901, ceasing publication in 1912 after 594 issues. The edition for 25 June 1904—with 16 full-page illustrations drawn by the Jossot—was dedicated to Freemasonry. Batman
According to Eclipse Path. Bible Prophecy Research, August 11, 1999 <philologos.org/bpr/files/Sky_Signs/ss013.htm>. the first Shriner temple in New York was named Gotham Temple and "it is alleged that the stories of Batman and Robin from Gotham City are based upon the Gotham Shrine Temple's alleged war against evil-doers." In fact, Mecca Temple—founded on 26 September 1872— was originally called New York Temple.


Reference is made to the Hiram Abiff legend, with an oblique intimation that Batman is a freemason, in Batman: Legends of the Dark Knight, "Conspiracy". written by Doug Moench, drawn by J. H. Williams III. DC, 3 issues (Nos.86-88), cover dated September - November 1996. Part 1, p. 23.

In Batman: Operation Scotland, Bruce Wayne visits Rosslyn Chapel and the legends of the Apprentice's Pillar and Hiram Abiff are told. Written by Alan Grant, drawn by Frank Quitely. DC/BTMSC 01: 1998. p. 27. Big Book of Conspiracies
This graphic novel repeats many of the usual anti-masonic attacks. Doug Moench, Paradox Press, an imprint of DC Comics. A Division of Warner Bros. A Times Warner Entertainment Company, New York, NY: 1995. 224 pages. Bloom County
Opus the penguin dresses himself in loud, mismatched clothes and concludes he looks like a Shriner. "Bloom County Babylon, Five years of basic naughtiness." Berke Breathed. Boston, Toronto : Little, Brown and Company, 1984(?). ISBN: 0-316-10309-8. 224p. p. 169.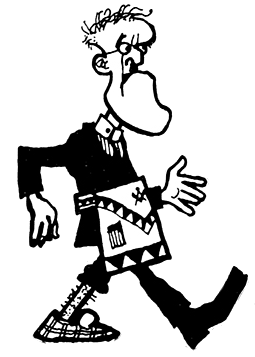 Bodley Basin, the strict Freemason (1987)
This two page comic caricature of the Freemasons manages to nicely sum up most of the popular misunderstandings and criticisms about Freemasonry. Bodley is depicted drunkenly driving away from his lodge hall and avoiding arrest by giving the masonic handshake. He then kills another member who has published a book about the "Secrets of the Masons", and, although arrested while burying the victim's tongue on a beach, is released by the judge who is revealed to be a member of his lodge. He later initiates a police constable into the lodge, kills an investigative reporter who had recorded the initiation, and is kidnapped by the "Rotary Club Militia" while visiting the "Under the Counter Accountancy Services". This one-off strip ends with the constable being promoted to Chief Inspector, and the cartoonist being killed. A reference to the "sacred skull of Gannex" will only be understood to those familiar with the waterproof raincoat manufactured in the UK from 1951 to 2010 and popularly identified with the ruling class. VIZ Comic No. 25 Silver Jubilee Tea Towel Issue, August [/September] 1987. "Bodley Basin, the strict Freemason, © House of Viz., Editor Chris Donald, Contributors: Simon Thorp, et al. pp.20-21. Cerebus
One recurring character is a self-proclaimed president named Weisshaupt, possibly named after Bavarian Illuminati founder Adam Weishaupt or inspired by Robert Anton Wilson's Illuminatus Trilogy. Cerebus "Captain Cockroach" Dave Sim, Aardvark Vanaheim, Inc. Issue 21, October 1980, and subsequent appearances.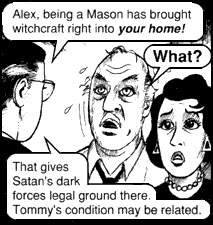 The Crusader
This series of comic books mendaciously attacks Freemasonry, the Catholic church, communism and the new age movement. The Crusader Series. Jack T. Chick. Chick Publications, Chino, California: 1979. 17 vols. Also reprinted as booklets. See Alberto Rivera. DC Comics
According to the Unofficial History of the DC Universe, in 11th century CE Persia, Vandal Savage's secret organization, formed in ancient Atlantis, takes the name "the Illuminati". Rip Hunter's cousin, Dan Hunter, time-travels to 1770 CE and inadvertently aids the Illuminati in killing George Washington and replacing him with Adam Weishaupt of Bavaria, a look-alike. Other than noting that in Flash No. 137, Vandal Savage is a Sumerian king in 2700 BCE, issue titles and dates are not cited. CSL NewsCartoon Service
"CartoonStock is a searchable database of over 70,000 quality gag cartoons, political cartoons, cartoon pictures and illustrations by over 290 of the world's best cartoonists." A keyword search for "freemason" returns seven cartoons, as shown on their website: cartoonstock.com [2006/05/11] Dreams of the Rarebit Fiend
A weekly comic strip series, one strip refers to Freemasonry without naming the fraternity although the "Ed. of Q. Lodge" may refer to the Quatuor Coronati Lodge of Education in England. Winsor McCay, Dreams of the Rarebit Fiend. Frederick A. Stokes Company, New York: 1905. Elementals
Created by writer and artist, Bill Willingham in 1984, the character Freemason appeared in three issues of the comic book series Elementals, published by Comico in the early 1990s. His costume displayed a large compasses and square emblem. Other than fighting for the "good guys" there was nothing particularly masonic about the character or his behaviour.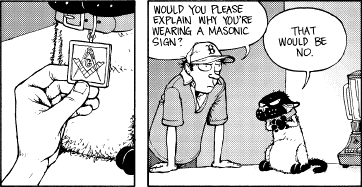 Get Fuzzy
A daily newspaper comic strip, Get Fuzzy depicts a selfish, violent cat named Bucky, a child-like dog named Satchel and their bemused owner, Rob. From April 14 to 19, 2003 Bucky explained that he belonged to a masonic lodge, announcing that he would kill anyone who tried to stop him from attending, and noting that a lot of cats belonged to his lodge: "They're orange." Drawn and copyright by Darby Conley, Distributed by United Features Syndicate, Inc., USA. Reprinted "Say Cheesy" a Get Fuzzy Collection. Kansas City : Andrews McMeel Publishing, 2005. pp. 73-74.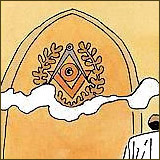 Fable of Venice
Created by a freemason, this comic book casts Freemasonry in the usual conspiratorial light. Several panels could be viewed on the Grand Orient of Italy's website, www.grandeoriente.it/studi/Pratt.htm from 2001 to 2007. Fable of Venice, Hugo Pratt. Rome : Lizard Editions, 1989. Foamy: Metal-Fest
Part of a growing trend in online flash animation cartoons, Foamy gives a running commentary on pop culture. In this episide Foamy promotes a Las Vagas music festival. He is seen holding a book entitled "Mason" for several seconds, although no other reference is made to Freemasonry. "Foamy: Metal-Fest", Neurotically Yours, Jonathan Ian Mathers. copyright 1998-2003. iLL Will Press. 07/17/2003 09:45PM EST, size 1,500.3Kb. From Hell
This graphic novel builds on the fanciful accusation that freemasons were involved in the Whitechapel murders. Written by Alan Moore, drawn by Eddie Campbell. Published by Eddie Campbell Comics. 572 pages, softcover, b&w, 7" x 9". Also see From Hell, being a melodrama in sixteen parts. Volume One, prologue, chapters one & two. 1991, 1992, 1994 Alan Moore and Eddie Campbell Northampton, MA : Mad Love Publishing in association with Kitchen Sink Press, Inc., 1994 ISBN : 0-87816-286-0. Originally serialized in Taboo #2 and #3 by SpiderBaby Grafix & Publications. First published by Tundra Publishing Ltd. in March 1991. Printed in Canada. Further details can be found here. Gran'pop's Annual
English comic-artist Lawson Wood (1878-1957) illustrated Gran'pop the artful ginger ape in the Gran'pop's Annual series written by Arthur William Groom and published by Dean, & Son Ltd., London, from 1935 - 1950. Undated, each book was about 124 pages and profusely illustrated. Yasha Beresiner notes "Lawson Wood also drew a series of masons in his well known Gran pop series." Unfortunately an example is not available. Home Star Runner
An online flash animated cartoon found at <www.homestarrunner.com/> includes a character named Coach Z, who in an episode of Strong Bad's Email entitled "Stunt Double" wears a crescent and star symbol and a red fez similar to those worn by Shriners. Further Shriner references in Homestar Runner can be found here. Written, directed and produced by them Brothers Chaps. Voices by Matt and Missy. A Homestar Runner Cartoon. 2003. Hellblazer No. 21
"The God of All Gods." Written by Jamie Delano, artist: Mark Buckingham, Alfredo Alcala 8/1989 Tthe "Fear Machine" story, a part of the Hellblazer series contains a bleak view of Freemasonry. Another story, "Royal Blood" incorporates a conspiracy involving the Hell Fire Club. The Horde
This futuristic graphic novel contains five references to Freemasonry, all labeling it as conspiratorial and Zionist. The Horde, Igor Baranko. Colours : Dave Stewart, Charlie Kirchoff. Humanoids / DCD Comics New York, 2004 ISBN : 104012-0360-4 tpb 139 pp. The Invisibles
The ongoing storyline of a struggle to control humanity incorporates hermetic and gnostic themes as well as references to contemporary conspiracy theory. Specific masonic references are not available although allusions are often made by online fans. Issue 2 of the third series alludes to James Shelby Downard's belief in the existence of an occult ritual called The Killing of the King" on page 4. The Invisibles was developed in three series, the first of 25 issues first published in 1994, the second of 22 issues and a reverse ordered 12 issue series ending in April 2000. A trade paperback was published in 1999. (Vertigo/DC) written by Grant Morrison, art by Phil Jimenez and John Stokes; Steve Yeowell, Jill Thompson, Dennis Cramer. Jack the Ripper : a journal of the Whitechapel murders 1888-1889
Although purporting to be a diary written at the time of the Whitechapel murders, this set of panals introduces an accusation not made until many years after the event in Stephen Knight's Jack the Ripper: The Final Solution (1976). Jack the Ripper : a journal of the Whitechapel murders 1888-1889, Rick Geary. New York : NBM, c1995. 64 p. : chiefly ill., 16 x 24 cm. Series:Ê Geary, Rick. Treasury of Victorian murder. Includes bibliographical references ([p.3]) ISBN:Ê1561631248 : p. 44. JiHo
French cartoonist, JiHo, signs his name with the three dots, .'., often used by freemasons to identify masonic acronyms. Neither his real name nor masonic affiliation are known, but he has drawn at least one cartoon with a masonic theme. Le secret ... Posted on Sunday, October 15, 2006 at 01:28PM : illuminaticonfessions.squarespace.com by Leo Lyon Zagami AKA Leo Young.

The League of Extraordinary Gentlemen
A series of, to date, three graphic novels in which Ms. Wilhelmina Murray, Captain Nemo, Dr. Henry Jekyll, Allan Quatermain and the invisible man, Hawley Griffin are recruited by Campion Bond, acting as intermediary for a mysterious "M" who is later revealed to be the villian, Moriarity. The offices of Her Majesty's Military Intelligence Division 5 are adorned with numerous square and compasses insignias, Bond wears a square and compasses watch fob, military personnel wear square and compasses over their rank insignia and many wear masonic-style aprons with an eye in a triangle marking. Alan Moore, Kevin O'Neill, Ben Dimagmaliw, Bill Oakley. America's Best Comics. La Jolia, CA. Vol 1, No. 1-6, 1999-2000. Vol 2, parts 1 and 2, December 2002. Vol 2, parts 3 and 4, April 2003. The story, complete with masonic references was made into a feature movie starring Sean Connnery in 2003.

Little Orphan Annie
Freemason Harold Gray (1894-1968) created Little Orphan Annie in 1924. Little Orphan Annie said about Daddy Warbucks: "With all his mines an' oil wells in the orient—Daddy's been out there hunnerts o' times—but he says one time he travelled to the East, but didn't make a dime, meant more to him than all th'other trips he'll ever make—I don't get it—do you?" [cited by Alphonse Cerza, The Truth is Stranger than Fiction (1980), p. 20.] Mad Magazine
Middle-aged white conventioneers in fezzes are not identified as Shriners in this cartoon. MAD, No. 369. May, 1998. Married to the Sea
A humourous juxtaposition of jive slang with period illustration, "Lay down the freemasonry" is found at marriedtothesea.com. Created by Drew and Natalie Dee, Columbus, Ohio, (c) 2002-2010. Posted online 2010/01/02, accessed 2010/01/05. The Mason: Issue 1
A fictional war between Shriners and Scottish Rite freemasons complete with killer cyborg clowns and other fanciful devises. Part 2 of 3. By Simon. Silver Bullet Comics. <www.silverbulletcomicbooks.com/monkey/99977944893980.htm>. Mutt and Jeff
Harry Conway "Bud" Fisher (1884[1885?]/04/03-1954/09/07) created what is now generally regarded as the world's first daily comic strip. A. Mutt (later renamed Mutt & Jeff) began on 15 November 1907, appearing first in The Chronicle then the San Francisco Examiner before being syndicated in the Wheeler Syndicate (which later changed its name to Bell Syndicate). This panel is taken from a 1916 strip:

"I finally got something for a Christmas present for Mutt. I know it's late, but I'll give it to him for a New Year's present.
"I couldn't see the holidays go by, Mutt, without giving you a present so I got you this little pin. It isn't so very valuable but there's a history attached to these pins"
"Oh fine! What kind of a pin is it?"
"It's the first pin worn by the masons."
"Oh fine! My uncle was a mason. I can hardly wait to open it.
"Hey! What's the idea? This is nothing but a plain safety pin."
"Never the less that's the first pin ever worn by the masons.
"You can ask any mason."

Compare this to another illustration by August Hutaf in 1908 entitled "A little mason wearing his first pin."

Neon Vincent's Massage Parlor
American social commentator, cartoonist and artist "Skip" Williamson (1949- ) was art director of Playboy magazine in the 1970s and 1980s where he created "Playboy Funnies" featuring "Neon Vincent's Massage Parlor". This reference to the Shriners is more a reflection of their image in the early decades of the century than the reality of their charity-focused parades and conventions of the 1970s and 1980s. A casual, and incomplete, review of the work of Skip Williamson, and the cartoons appearing over the years in Playboy (1954 - ), show no other references to Shriners or Freemasonry. New Yorker Magazine
Of the 68,647 cartoons that appeared in The New Yorker magazine from 1925 to 2004 only two referred to Freemasonry and five referred to the Shriners. The Parking Lot is Full
From 1993 to 2002, The Parking Lot is Full was produced by artist Jack McLaren and writer Pat Spacek, first in their university newspaper and then on the net at www.plif.com (2004/06/22). Freemasonry was not a theme but appears to have merely been caught in the crossfire of an ongoing rif on contemporary issues. Pogo
Beauregard Bugleboy is often depicted wearing a fez but in this single panel from 21 September 1969 his fez is so angled as to present the usual geometric pattern as a masonic square and compasses emblem. There is no reason to conclude it is intentional. Pogo, created by cartoonist Walt Kelly (1913Ð1973). 21 September 1969. Pryde and Wisdom
"Come on in, son. Bring the corrupt Amerikan Freemason witch girlfriend with you."
"American pagan — what?"
"America is run by Freemasons who worship the A-bomb and killed JFK, according to an ancient pagan ritual." Peter Wisdom's father. Pryde and Wisdom No. 2, March 6, 1996. Terry Dodson, Pencils; Tom Simmons, Inks; Matt Idelson, Editor. Marvel Comics. Found at <www.geocities.com/SoHo/Bistro/2619/quotes.htm>. Retrospective Glance: The memories of J. F. Sebastion
The USA Great Seal reverse is depicted on the back cover and on page 25, while other symbols abound: an Aleister Crowley quote regarding the number 11 and the five-pointed star from Liber AL (1904) [p. 5]; a "code gematria" written out with a skull and crossbones logo [p. 6]; a swastika on a flying saucer [p. 7]; the FBI logo [p. 9]; a swastika and a separate ilustration of a single snake wrapped around a rod [p. 17]; an hermetic seven stars, sun and moon woodcut [p. 19]; a cartoon depiction of pain as an oulined five-pointed star [p. 23]; a hexagram encircled by a snake biting its tail, the Worm Ouroboros [p. 27]; and a five-pointed star on a sweater front [p. 51]. The only masonic reference is on page 40 where an amateur bomber muses to himself, "So... this contact here... this is a nice bomb... a loud bomb! They always laugh in the pub... This should help... turks, niggers, freemasons and commies! Must stop it.. fire purifies... I will purify with fire! This country has to become clean! White!! I'll never take orders from socialists and yugoslavs! They took my wife!" [p. 40] Issue 1: The Citoyen (The Anger Diaries 1) words and artwork by Jörg Vogeltanz (1968- ). comic edition. Graz. Austria : Prequel, 2002. [72p.] pb paper, colour, 17 x 25.5cm ["with greetings from a sympathisant" JV. 04]. Rex Morgan M.D. (2012)
The use of Shriners to represent a convention-crowded hotel has become a stock image in fiction. Noteworthy in this 19 March 2012 comic strip is the depiction of a younger Shriner. Rex Morgan, M.D. is an American soap-opera comic strip, created in 1948 by psychiatrist Dr. Nicholas P. Dallis (December 15, 1911 - July 6, 1991) under the pseudonym Dal Curtis. It is currently drawn by Graham Nolan (born 12 March 1962) and written by Woody Wilson. Sebastion O
Two specific masonic references are made in the introduction on page 5, "A Sebastion O Chronology" : "1888. Sebastion O assists police in the apprehension of Springheeled Jack the Phantom Red Ripper — but a Masonic cover-up ensues, leading to the first meeting of Sebastion O and Lord Theo Lavender. Queen Victoria grants Sebastion a Royal pardon on the condition that he never speak of the Red Ripper affair." "1891. Sebastion is reintroduced to the sinister Mason, Lord Theo Lavender." On page 16 Lord Carhaix is noted as a diabolist and member of Sir Francis Dashwood's infamous Hellfire Club. While not masonic, a curious emblem, a scissors and straight razor, is also reproduced on page 5. Sebastion O, Grant Morrison, writer. Steve Yeowell, illustrator. Tatjana Wood, colorist. JohnWorkman, letterer. New York, NY, USA, : Vertigo / DC Comics / Warner Bros. Entertainment, 2004. ISBN: 1-4012-0337-X. Strangehaven
issues 1 - 6 of series. Alex Hunter is trapped in a deceptively idyllic village in the English countryside controlled by a secretive brotherhood, The Knights of the Golden Light. Introduction by Cerebus creator Dave Sim. Millidge, Gary Spencer, creator. Arcadia : Strangehaven 1 LPC GROUP. 2ND TRADE PAPER, Top Shelf Productions 2001. Arcadia Southend-on-Sea. PO Box 448, Southend-on-Sea, Essex, SS1 2FN, England, 2000. Diamond Comic Distributors. 0.50 x 10.25 x 6.75. Book Paperback, illustrated. ISBN 0946790043. Strangehaven - Brotherhood
Issues 7 - 12 of series. Alex Hunter continues to be trapped in a deceptively idyllic village in the English countryside controlled by a secretive brotherhood, The Knights of the Golden Light. Introduction by Heart of Empire creator Bryan Talbot. Optioned for TV and film by Laninco in 2003. "On the story side, I probably focused too much on the Freemasonry parody." Gary Spencer Millidge. Abiogenesis Press, PO Box 448, Southend-on-Sea, Essex, SS1 2FN, England. Millidge, Gary Spencer, creator. Marietta, GA, U.S.A.: Top Shelf Productions 2001. Abiogenesis Press. 0.50 x 10.25 x 6.75. Paperback, illustrated. ISBN 0946790051. They'll Do It Every Time
They'll Do It Every Time was a single-panel newspaper comic strip, created by James Cecil Hatlo (1897/09/01-1963/12/01), better known as Jimmy Hatlo, and distributed by King Features Syndicate. It first appeared on February 5, 1929 and ran until February 2, 2008. One panel depicted a fraternal lodge initiation complete with candidate riding a goat and older members standing around the room muttering complaints about how poorly the "ritual" is being conducted. The editor once, briefly in the mid-1980s, saw the panel framed and hanging on the office wall of the masonic lodge hall in Whitehorse but unfortunately has not been able to find it again. Le Triangle Secret
Volume 1 introduces two researchers, Didier Mosàle and Francis Marlane who were initiated together into Freemasonry. Other freemasons, and masonic symbols and themes, appear throughout the seven-volume comic book series. The author makes it clear that it is only a work of fiction but it is a reasonably accurate depiction of masonic life and ideals. 7 volumes, By Dider Convard at al. Glenat, Publisher, ISBN : 2723434982, April 2002 - March 2003. WildC.A.T.s X-Men
The leader of a modern "Hellfire Club" is depicted invoking a demon from hell. The character's ritual wardrobe includes a square and compasses, Worshipful Master's Square, and an apron styled after that worn by Freemasons. WildC.A.T.s X-Men: The Modern Age. August 1997.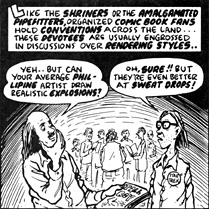 Will Eisner's Quarterly 3
Illustrating Will Eisner's October 27, 1983 "Shop Talk" interview with Phil Seuling, a single panal includes the following line: "Like the Shriners or the Amalgamated Pipefitters, organized comic book fans hold conventions across the land..." Bill Griffith illustration, 1977. Princeton, WI : Kitchen Sink Press, Inc., 1984. p. 52. The Yellow Kid
Richard F. Outcault's late nineteenth century weekly illustrations in the New York Journal contained a number of square and compasses and other references that could be viewed as masonic. Examples are on their own page here.