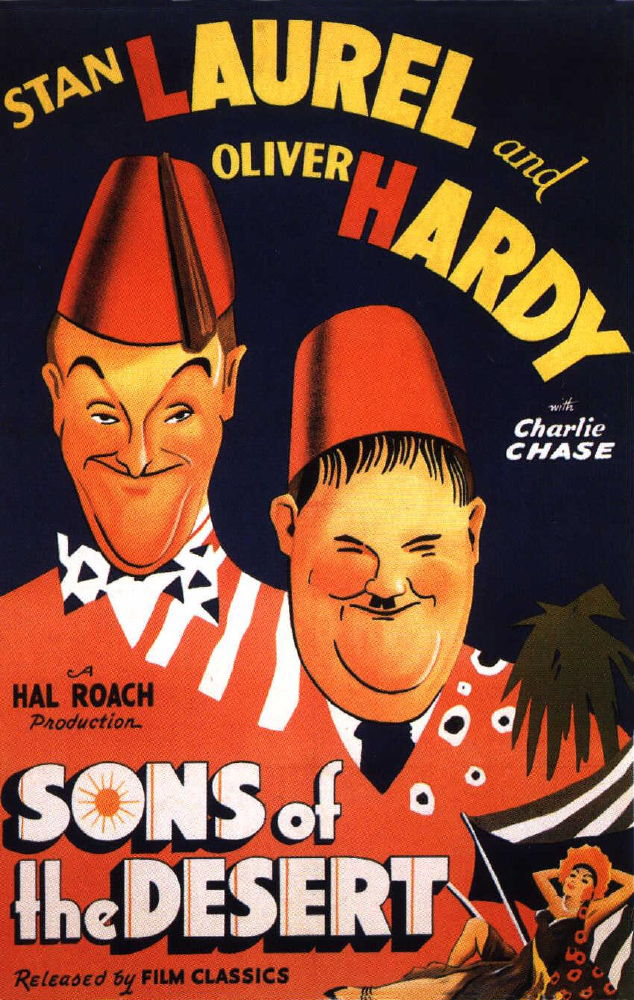 References to Freemasonry in popular culture range from the vitriolic to the innocuous. Often they are merely misinformed allusions from which Freemasonry faces a far more insidious threat; that of being marginalized, trivialized, and fictionalized. Most of the references noted on this site are harmless, simply pointing out that Freemasonry has played a role in our society; some are humorous, yet some are disturbing in their associations.
Mistaken masonic references
Theatre or television viewings, without the opportunity to rewind and freeze-frame or replay, will sometimes lead to mistaken reports. These reports will take on the attributes of urban folklore, appearing in newsgroups and the like. Other reports, in any media, will presume masonic significance where none exists. Please forward additional references, with details, to our editor. Unconfirmed sightings can be found on their own page.
Cinema Almost Heroes (1998)
After taking reading lessons from Leslie Edwards, Bartholomew Hunt attempts to read the "Welcome to Snakes Bend" sign, with "Ma..ha...ba...peh..in tin..tin." [00:37:35]. Moments later, when attempting to read a tavern sign, he says "Ma... ha... ba.. teh..." This has mistakenly reported as a masonic reference to a significant word in the third degree. Directed by Christopher Guest, written by Mark Nutter, Tom Wolfe. Chris Farley, Matthew Perry, Bokeem Woodbine, Barry Del Sherman, Robert Tittor, Franklin Cover, David Packer, Eugene Levy, Lisa Barbuscia. USA, English, 90 min, Dolby, Technicolor. * Blade II (2002)
A ring, central to a major plot point, has been mistakenly identified as masonic. First seen when Nyssa, puts it on while riding in a helicoptor [00:23:24], Nomak hands the same style ring to Whistler [01:19:00], and later Nyssa describes the ring as being her family crest [01:01:22:40]. The emblem is seen clearly when Whistler throws Nomak's ring at Damaskinos's feet. [01:24:20] Directed by Guillermo del Toro, written by David S. Goyer, Marv Wolfman, Gene Colan. Wesley Snipes, Kris Kristofferson, Ron Perlman, Leonor Varela, Norman Reedus, Thomas Kretschmann, Luke Goss, Matt Schulze, Danny John-Jules, Donnie Yen, Karel Roden, Marit Velle Kile, Tony Curran, Daz Crawford, Santiago Segura. Germany | USA, English | Romanian | Czech, 117 min, Dolby, Colour. * Colorado Territory (1949)
A train conductor in partnership with bank robbers protests, "I'm a respectable man. You can ask anybody in the town of Aztec, that's the junction. I live there, me and my wife. Everybody knows me. Yeah, I'm a family man, and a lodge man, and..." [00:27:10] Although cited as a masonic reference, the conductor could just as easily been an Odd Fellow, or member of one of over a hundred other fraternities flourishig at the time. Directed by Raoul Walsh, written by John Twist, Edmund H. North. Joel McCrea, Virginia Mayo, Dorothy Malone, Henry Hull, John Archer, James Mitchell, Morris Ankrum, Basil Ruysdael, Frank Puglia, Ian Wolfe, Harry Woods, Houseley Stevenson, USA, English, 94 min. Mono, Black and White. * The Dead Files (2015)
The ring worn by Steve DiSchiavi has been erroneously identified online as 'masonic' [00:01:45]. Season 3, Episode 13, "Dark Inheritance" (2014/01/31) Directed by Rob Traegler. Produced by Philip Abatecola, Joe Bradley, Tyler Jenkins, Rob Rosen, Tracy Weatherby. Starring Amy Allan, Matthew Anderson and Steve DiSchiavi. TV, USA, 43 min., Colour. * Escape from New York (1981)
The President of the United States, played by Donald Pleasence, is wearing a ring, visible as his aids place him in an escape pod,[00:09:20] then a second time when the president's severed finger is delivered to Hauk. [00:13:10] This has been cited as a masonic ring, although a higher resolution image is needed for confirmation. Directed by John Carpenter, written by John Carpenter, Nick Castle. Kurt Russell, Lee Van Cleef, Ernest Borgnine, Donald Pleasence, Isaac Hayes, Season Hubley, Harry Dean Stanton, Adrienne Barbeau, Tom Atkins, Charles Cyphers, Joe Unger, Frank Doubleday, John Strobel, John Cothran Jr., Garrett Bergfeld. UK | USA, English, 99 min. Dolby, Metrocolor. * Eyes Wide Shut (1999)
Although there are no masonic references in this movie, anti-masons—and those unclear on the distinction between real-world Freemasonry and the iconography of the conspiracy mythos—see a private club as representing a masonic secret society. In one scene a character is seen sitting in a throne-like chair [01:16:38], the back of which is surmounted by a Romanov crown over two eagles. The chair sits in the middle of a room with a checkerboard floor. Tom Cruise, Nicole Kidman. Directed by Stanley Kubrick, written by Arthur Schnitzler. * Fall of an Empire: The Story of Katherine of Alexandria (2014)
Although reported to include masonic symbolism, nothing has been specifically identified. Other than the historically inaccurate trappings of Roman soldiers the only prevalent symbol is the appearance of an eight-spoked wheel, forshadowing Katherine's death. AKA "Katherine of Alexandria". Directed by Michael Redwood, starring Nicole Keniheart, Peter O'Toole, Joss Ackland, Steven Berkoff, Edward Fox, Jack Goddard, Jean Marlow. UK, English, 110 min., Colour. * Flash Gordon (1980)
Ming's chief henchman and torturer, Klytus, is shown wearing what appears to be a square and compasses on the front of his uniform but upon closer view is not. Sam J. Jones and Melody Anderson, with Max von Sydow as Ming the Merciless. Directed by Mike Hodges. 111 min., USA, English. Colour. * Ghosts of Mississippi (1996)
While there are a number of Shriners emblems seen, there has also been a report of a masonic funeral with Shriner fezzes and regalia. This is a mistaken description of a scene where NAACP field secretary Medger W. Evers (1925/07/02-1963/06/12), has been disinterred and is shown in his coffin with his Order of Elks fez placed on his chest. In real-life, Evers was also a Freemason. Alec Baldwin, Whoopi Goldberg, James Woods. Directed by Rob Reiner, written by Leo Colick, Columbia Pictures & Castle Rock Entertainment. USA (Drama) * The Godfather Part III (1990)
When a tray of jewellery is passed around, it has been erroneously reported that one of the items is a masonic ring. [01:01:00]. Directed by Francis Ford Coppola, written by Mario Puzo, Francis Ford Coppola. Al Pacino, Diane Keaton, Talia Shire, Andy Garcia, Eli Wallach, Joe Mantegna, George Hamilton, Bridget Fonda, Sofia Coppola. 162 min. USA, English / Italian. Technicolor, Dolby. * Jack the Ripper (1988)
This made-for-tv movie has been mistakenly reported as having Sherlock Holmes giving a sign of an Entered Apprentice to the Chief of the Metropolitan Police. The report is a mistaken conflation with Murder by Decree and other works of fiction based on the discredited masonic/royal conspracy theory. Sherlock Holmes does not appear in this film, but Michael Caine, as Inspector Frederick Abberline, does visit a masonic lodge. * JFK (1991)
Kevin Costner, as District Attorney Jim Garrison, investigates John Kennedy's assassination. Although there are no obvious masonic references, conspiracy theorists who have done a frame-by-frame analysis of the video release claim to observe many masonic symbols and references. These seem to be limited to images of skulls and UFOs, and depictions of "secret hand signs", none of which are uniquely masonic. Costner is also, without citation, alleged to be a freemason. One specific claim, that Costner is wearing a masonic ring [01:22:11], is easily seen to be an error. It is an interesting bit of film trivia that the Oval Office scenes were filmed in the Dallas, Texas, Scottish Rite Temple. Directed by Oliver Stone. Warner Bros. * Kingdom Come (2001)
In a funeral scene, it has been claimed that Shriners outside a church are almost run over by an irate driver. False. LL Cool J, Vivica A. Fox, Jada Pinckett. Directed by Doug McHenry, written by David Bottrell, Jessie Jones. USA, English, 94 min. (Comedy). Lara Croft: Tomb Raider (2001)
The decorative carving in the plinths on either side of the entrance to Lady Lara Croft's manorhouse includes two designs which have been claimed to resemble the outline of a masonic square and compasses. [00:29:09]. Lara Croft: Tomb Raider (2001) Directed by Simon West, written by Sara B. Cooper and Mike Werb. Angelina Jolie, Jon Voight, Iain Glen, Noah Taylor, Daniel Craig. 100 min. USA, English. Color (DeLuxe), Dolby Digital. (Action). * The Lion King (1994)
Rafiki the Mandrill, as the king's shaman, carries a cane. [01:04:22] This has been erroneously reported as a masonic visual pun. The Lion King (1994) Directed by Roger Allers Rob Minkoff, written by Irene Mecchi and Jonathan Roberts. Jonathan Taylor Thomas, Matthew Broderick, James Earl Jones, Jeremy Irons, Moira Kelly, Niketa Calame, Ernie Sabella, Nathan Lane, Robert Guillaume, Rowan Atkinson, Madge Sinclair, Whoopi Goldberg, Cheech Marin, Jim Cummings, Zoe Leader. 89 min. USA, English / Swahili / Xhosa / Zulu. Technicolor, Dolby. * The Man from U.N.C.L.E. (2015)
A corporate logo, seen in the background and on a security guard's lapel has been erroneously reported as a masonic square and compasses.[00:41:30] Directed by Guy Ritchie, written by Guy Ritchie, Lionel Wigram. Henry Cavill. Armie Hammer, Alicia Vikander, Elizabeth Debicki, Luca Calvani, Sylvester Groth, Hugh Grant, Jared Harris, Christian Berkel, Misha Kuznetsov, Guy Williams, Marianna Di Martino, Julian Michael Deuster, Andrea Cagliesi, Riccardo Calvanese. USA | UK English | Russian | German | Italian, 116 min., Dolby, Colour. * Match Point (2005)
Mistakenly reported as a masonic square and compasses emblem, a Völkl® tennis racquet imprinted with the corporate logo is used by tennis pro, Chris Wilton. [00:03:24] Directed and written by Woody Allen. Jonathan Rhys Meyers, Alexander Armstrong, Paul Kaye, Matthew Goode, Brian Cox, Penelope Wilton, Emily Mortimer, Janis Kelly, Alan Oke, Mark Gatiss, Scarlett Johansson, Philip Mansfield, Simon Kunz, Geoffrey Streatfield, Mary Hegarty. UK | Luxembourg,English,124 min., Dolby, Colour. * Micmacs à tire-larigot (2009)
An armament manufacturer's logo has been erroneously reported as a masonic square and compasses emblem. [00:02:35] Micmacs à tire-larigot (2009). Jean-Pierre Jeunet Jean-Pierre Jeunet, Guillaume Laurant Dany Boon, André Dussollier, Nicolas Marié, Jean-Pierre Marielle, Yolande Moreau, Julie Ferrier, Omar Sy, Dominique Pinon, Michel Crémadès, Marie-Julie Baup, Urbain Cancelier, Patrick Paroux, Jean-Pierre Becker, Stéphane Butet, Philippe Girard. France, French, 105 min. Dolby, Colour. * Napoléon (1927)
Abel Gance's film features a striking scene in which Rouget de Lisle's "la Marsellaise" is first sung. An all-seeing eye in a triangle can be seen on a pillar. Not a masonic symbol in itself, it is often identified as such. Written and directed by Abel Gance. Albert Dieudonné, Vladimir Roudenko, Edmond Van Daële, Alexandre Koubitzky, Antonin Artaud, Abel Gance, Gina Manès, Suzanne Bianchetti, Marguerite Gance, Yvette Dieudonné, Philippe Hériat, Pierre Batcheff, Eugénie Buffet, Acho Chakatouny, Nicolas Koline. France, 240 min. Silent, (Dolby 1981 re-release), Black and White (tinted). * Network (1976)
A "quotes quiz", included with the 2000 DVD release, misquotes Faye Dunaway as Diana Christensen: "I see Howard Beale as a latter-day prophet. A magnificent Masonic figure inveighing against the hypocrisies of our time." [00:26:10] The actual script is "a magnificent messianic figure". Dunaway pronounces the word, "messionic". Network (1976). Directed by Sidney Lumet, written by Paddy Chayefsky. Faye Dunaway, William Holden, Peter Finch, Robert Duvall, Wesley Addy, Ned Beatty. 121 min. USA. English. Metrocolor. Mono. 2000: Turner Entertainment Co. and Warner Bros. Video. * Le Pacte des loups (Brotherhood of the Wolf) (2001)
The movie's plot involves a secret society dedicated to increasing the Pope's power over Louis XV and a conspiracy to play upon a local superstitous dread of the supernatural. A gratuitous reference to the Knights Templar by Marianne de Morangias (Émilie Dequenne) early in the film, and several camera shots of an ornamented fireplace have lead to this movie's inclusion on lists of masonic references. When captain Duhamel is interviewed and dismissed in Pierre-Jean Laffont's (Bernard Farcy) castle, the fireplace can be seen to display a carved centre swash or flourish which is clearly not a square and compasses. [0:47:37 - 00:49:51] * Scott Pilgrim vs the World (2010)
Although "symbols and numbers throughout the movie" have been reported on Youtube as masonic or Illuminati, the examples appear to be restricted to a pyramid-shaped stage, checkerboard floorings, the number 33 and the number 666. No actual masonic symbols have been identified, although one depiction of crossed swords has been mistaken as such [00:03:50]. Directed by Edgar Wright, written by Michael Bacall, Edgar Wright. Michael Cera, Alison Pill, Mark Webber, Johnny Simmons, Ellen Wong, Kieran Culkin, Anna Kendrick, Aubrey Plaza, Mary Elizabeth Winstead, Ben Lewis, Nelson Franklin, Kristina Pesic, Ingrid Haas, Marlee Otto, Will Bowes. USA | UK | Canada, English, 112 min. Dolby, Colour. * Shameless (2016)
A zippered hoodie worn by Carl Gallagher (Ethan Cutkosky), printed with the USA great seal, has been mistakenly claimed on Reddit as a "deep-Freemasonry shout out". [00:32:00] "Refugees", season 6, episode 5,. Wendey Stanzler, written by John Wells, created by Paul Abbott. William H. Macy, Emmy Rossum, Jeremy Allen White, Ethan Cutkosky, Shanola Hampton, Steve Howey, Emma Kenney, Cameron Monaghan, Dermot Mulroney, Sasha Alexander, Nichole Sakura, Michael Reilly Burke, Vanessa Bell Calloway, Ever Carradine, Isidora Goreshter. English, Colour, 7 February 2016, 55 min. * Shanghai Knights (2003)
Contrary to online reports, Lord Rathbone—who attempts to kill Queen Victoria—is not wearing a masonic ring [01:28:55]. Shanghai Knights (2003). Directed by David Dobkin, written by Alfred Gough, Miles Millar. Jackie Chan, Owen Wilson, Fann Wong, Aaron Johnson, Aidan Gillen, Tom Fisher, Donnie Yen, Oliver Cotton, Alison King, Constantine Gregory, Jonathan Harvey, Richard Haas, Anna-Louise Plowman, Georgina Chapman, John Owens. USA | Hong Kong, English | Mandarin, 114 min., Dolby, Colour. * The Shawshank Redemption (1994)
Bob Gunton as Warden Norton wears what has been reported to be a square and compasses emblem but is actually a Christian cross with overlaid banner. [01:18:13] Directed by Frank Darabont, written by Stephen King, Frank Darabont. Tim Robbins, Morgan Freeman, Bob Gunton, William Sadler, Clancy Brown, Gil Bellows, Mark Rolston, James Whitmore, Jeffrey DeMunn, Larry Brandenburg, Neil Giuntoli, Brian Libby, David Proval, Joseph Ragno, Jude Ciccolella. 142 min. USA, English, Technicolor, Dolby. * Sherlock Holmes (2009)
Although Freemasonry is never mentioned, the casual viewer with a minimal awareness of esoteric, alchemical, and hermetic symbols will mistakenly identify the fictional secret society, the Temple of the Four Orders, with Freemasonry. [01:01:19] Directed by Guy Ritchie, written by Michael Robert Johnson, Anthony Peckham. Robert Downey Jr., Jude Law, Rachel McAdams, Mark Strong, Eddie Marsan, Robert Maillet, Geraldine James, Kelly Reilly, William Houston, Hans Matheson, James Fox, William Hope, Clive Russell, Oran Gurel, David Garrick. USA|Germany|UK, English|French, 128 min. Dolby, Colour. * Support Your Local Sheriff! (1969)
A scissors and straight razor illustration on a barbershop sign [00:11:32] has been mistakenly reported as a square and compasses. A similar illustration appeared in the graphic novel, Sebastion O. Directed by Burt Kennedy, written by William Bowers. James Garner, Joan Hackett, Walter Brennan, Harry Morgan, Jack Elam, Henry Jones, Bruce Dern, Willis Bouchey, Gene Evans, Walter Burke, Dick Peabody, Chubby Johnson, Kathleen Freeman, Dick Haynes, 92 min. USA, English. Technicolor, Mono. * The Three Burials of Melquiades Estrada (2005)
Although "many specific references and allusions" are claimed in the Wikipedia entry [accessed 2023/01/22], no examples are given, nor found in a review of the film. Directed by Tommy Lee Jones, written by Guillermo Arriaga. Tommy Lee Jones, Barry Pepper, Julio Cedillo, Dwight Yoakam, January Jones, Melissa Leo, Levon Helm, Mel Rodriguez, Cecilia Suárez, Ignacio Guadalupe, Vanessa Bauche, Irineo Alvarez, Guillermo Arriaga, Josh Berry, Rodger Boyce. 121 min. USA / France, English / Spanish. Colour, Dolby. * To New Horizons (1940)
A documentary on the "Futurama" exhibit in General Motors' "Highways and Horizons" pavilion at the 1939-1940 New York World's Fair is referred to at archive.org/details/ToNewHor1940 as "The most blatant masonic reference I have ever seen!" [accessed 2003/02/28] * The film makes use of construction imagery, and builds on the graphic effect of the fair's logo, the Trylon and Perisphere, a 610" triangular tower and 180" globe designed by Wallace K. Harrison and J. André Fouilhoux. Conspiracy theorists will interpret any circular and triangular design as representing the eye and pyramid image on the USA seal, and further insist erroneously that the image represents the Illuminati. But a review of the film will reveal no real masonic references. Model Design by Norman Bel Geddes for General Motors. Produced by The Jam Handy Organization. USA, English. Technicolor. 35 min. (1939). * Top Gun (1986)
Although Tom Cruise's boots have been reported as displaying the Shriners' emblem, a higher resolution image is required for confirmation. [00:42:00] See Kiss Me Stupid for comparison. Directed by Tony Scott, written by Ehud Yonay (article) Jim Cash. Tom Cruise, Kelly McGillis, Val Kilmer, Anthony Edwards, Tom Skerritt, Michael Ironside, John Stockwell, Barry Tubb, Rick Rossovich, Tim Robbins, Clarence Gilyard Jr., Whip Hubley, James Tolkan, Meg Ryan, Adrian Pasdar. 110 min. USA, English. Metrocolor. * The Untouchables (1987)
A possible masonic reference, Clifton James, as the District Attorney, wears a watchfob which has the appearance of a masonic Grand Master's emblem, an arc and compasses. [01:36:00] Directed by Brian De Palma, written by Oscar Fraley (suggested by book) and Eliot Ness. Kevin Costner, Sean Connery, Charles Martin Smith, Andy Garcia, Robert De Niro, Richard Bradford, Jack Kehoe, Brad Sullivan, Billy Drago, Patricia Clarkson, Vito D'Ambrosio, Steven Goldstein, Peter Aylward, Don Harvey, Robert Swan. 119 min. USA, English, Technicolor, Dolby. * The Verdict (1982)
While cited in the Internet Movie Database under the keyword, "Freemasonry", there are actually no references to Freemasonry in this movie. In one early scene Paul Neuman, as Frank Galvin—having paid to be introduced to a recently bereaved widow—says: "I knew your husband vaguely at the lodge. He was a wonderful man." [00:03:53] Neuman wears a ring and James Mason, as Edward J. Concannon, wears a watchfob but neither are masonic. Directed by Sidney Lumet. Barry Reed (novel), David Mamet (screenplay). Paul Newman, Charlotte Rampling, Jack Warden, James Mason. 129 min. USA, English. Technicolor, Stereo. (Drama) * Music Blue Fear (2003)
Originally released in 1997, there is a report that this 2009 Dutch trance music video by Armin van Buuren is suffused with masonic significance, citing the number 33 in a type treatment, the use of section titles such as "demiurge" and "illumination", the appearance of the number for pi and the presence of God's eye images. Less a mistaken sighting than an imaginary one, there is also claim of a hidden square and compasses. The Boll Weevil Song (1960)
With words and music by Brook Benton and Clyde Otis, Brook Benton recorded The Boll Weevil Song for Mercury Records in 1961. In the lyrics, when the farmer says to the boll weevil "I see you're on the square," he is not making a masonic reference. After cotton blooms, the swelling 'bud' which later opens to expose the lint (the cotton fiber itself) is called a 'square'. There is no masonic reference, as the boll weevil is literally 'on the square' of the cotton. Television Adventures of Robin Hood (1938)
Errol Flynn has been claimed to demonstrate the masonic five points of fellowship. False. Errol Flynn, Olivia de Havilland, Basil Rathbone, Claude Rains. Directed by Michael Curtiz William Keighley, written by Norman Reilly Raine, Seton I. Miller. 102 min., English. (Action) * Cf. Richard Greene in The Adventures Of Robin Hood (1957). Beastmaster (2001)
Slythius calls King Zad to a small apartment where he speaks of the first phase of Mars, and the morning star born on the solstice. Behind Slythius, an animal hide covering the wall has a pattern which has been mistakenly reported as "an aged square and compasses symbol". [00:07:28] Season 3, Episode 4, "Veil of Death", first aired 27 October 2001. Louie (2014)
Louie's friend, Pamela, has been mistakenly reported as wearing a masonic ring. [00:06:05] "Pamela Part 1 " 2 June 2014 , season 4, episode 10. Created and written by Louis C.K.. Louis C.K., Pamela Adlon, Charles Grodin, Hadley Delany, Ursula Parker, P.J. Benjamin, Michael Kostroff, Isaiah Stokes, Bill Vila, Graham Winton. USA, English, 22 min, Colour. Magnum P.I. (1980)
Tom Selleck, as Thomas S. Magnum, wears a ring displaying a Patriarchal Cross [00:14:57]. Although the crossbars are not uniformly spaced, usage has not always been consistent and it could be intended for a Cross Lorraine. But it is not a Knights Templar or masonic ring. Written by Nick Thiel. Directed by Michael Vejar. Created By Donald P. Bellisario and Glen A. Larson. Tom Selleck, Kathleen Lloyd, John Hillerman, Roger E. Mosley, Larry Manetti, Sal Viscuso. Original air date 01/26/84. * The Munsters (1965)
Al Lewis [d. 02-04-2006], played Grandpa, also known as Count Munster, on this popular American sit-com. Contrary to some reports, his collar jewel [00:17:00] is not masonic. The Munsters, Episode 1-33 : "Lily Munster - Girl Model" airdate: 6 May 1965, CBS. Written by Joe Connelly, Bob Mosher,director: Earl Bellamy, Story: Dick Conway. Starring: Fred Gwynne (Herman Munster), Yvonne De Carlo (Lily Munster), Al Lewis (Grandpa [d. 02-04-2006]), Butch Patrick (Edward "Eddie" Wolfgang Munster), Pat Priest (Marilyn Munster [eps 14-70 ]) Aired from September 24, 1964 to May 1966 70 episodes and four movies CBS 30 min., mono [Production code: 2484] * Neon Genesis Evangelion (1994)
A secret cabal called Seele controls the United Nations and promotes a pseudo-apocolyptic agenda. Claims that this group represent the Illuminati or Freemasonry are unfounded. Based on a 1994-launched manga by Yoshiyuki Sadamoto, Neon Genesis Evangelion was written and directed by Hideaki Anno as a 26 episode television series,later recreated as—to date—seven feature length animated movies. Seinfeld (1997)
In an exchange from an unspecified episode, George Costanza is reported to have said, "I only know of one great architect!" The closest to this found in transcripts is from "The Van Buren Boys" (1997/02/06) : GEORGE: "Besides, Steven Koren has the highest of aspirations. He wants to be... [pauses for effect] ...an architect." WYCK: "Is that right?" STEVEN: "Actually, maybe I could set my sights a little bit higher." GEORGE: (laughs) "Steven, nothing is higher than an architect." Seinfeld. Written by Darin Henry, directed by Andy Ackerman. Jerry Seinfeld, Michael Richards, Jason Alexander (George), Julia Louis-Dreyfus, John O'Hurley, Jed Rhein (Steven), and Christine Taylor. The Twilight Zone (1962)
Paul Radin, a wealthy, amoral and, eventually, insane, businessman wears what has been mistakenly reported as a square and compasses tie pin. [00:01:21] The Twilight Zone (Season 3, Episode 17) "One More Pallbearer" Directed by Lamont Johnson, written by Rod Serling. Joseph Wiseman, Katherine Squire, Trevor Bardette, Gage Clarke. USA, English, 12 January 1962. 25 min, Mono, Black and White.