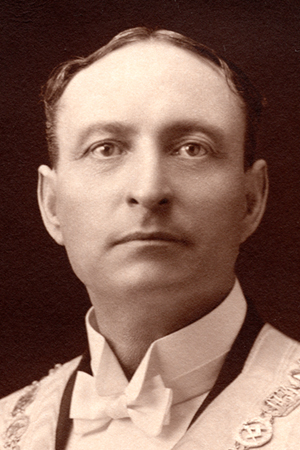 1865 - 3 November 1924 Born in Boscastle, Cornwall, England in 1865, Luther Watts Doney spent much of his life in China engaged in the shipping business. Relocating to Canada by way of England, he was active with the North Vancouver Board of Trade. During the First World War he was secretary of the Red Cross Patriotic Fund and was also chairman of the exemption tribunal. In 1915 he was appointed Police Magistrate of the City of North Vancouver, a post he held until his death. His remains are buried in the North Vancouver cemetery. Union Lodge No 1951, Tianjin, China.
Initiated: 3 March 1887
Passed: 7 April 1887
Raised: 2 June 1887
Worshipful Master: 1897
Resigned: 1905

Coronation Lodge No 2931, Tianjin
Founding Master: July 1902
Resigned: 8 May 1905

Anglo-Colonial Lodge No 3175, London, England
Founding member: 1906
Resigned: June 1918

Burrard Lodge No. 50, North Vancouver
Affiliate: January 1911

Duke of Connaught Lodge No. 64
Founding Master: 1911

Royal Colonial Institute Lodge No 3556, London
Affiliate: 13 March 1912
Resigned: 6 December 1915.

District of Northern China, E.C.
District Grand Steward: 1894
District Grand Standard Bearer: 1898
District Assistant Grand Director of Ceremonies: 1901
District Senior Grand Warden: 1903

Source: Paul Puleston-Clarke, Duke of Connaught Lodge No. 64.