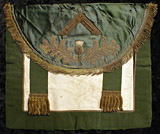 Substitute (District) Grand Master's apron for the Grand Lodge of Scotland as indicated by a square with, in the angle, the all-seeing eye. Worn by MW Bro. Israel Wood Powell (1867-71). According to Draffen's List of Lodges the District Grand Lodge of British Columbia existed in 1867 and had such a Roll of District Grand Lodges been formally drawn up (and Draffen's list suggests that one was so made for administrative use) then the DGL of BC would have had the number 46.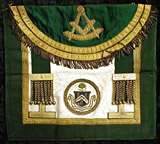 Past Master's apron (as indicated by the Square, Compasses and 90 degree segment) with crest (tree with a fish thereon) of the City of Glasgow incorporating the motto of the city: 'Let Glasgow flourish' indicates Lodge Glasgow Kilwinning No 4.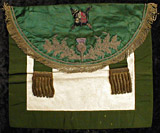 The design on the flap of this apron appears to be that of a sword and baton (in saltire) overlaid with a badge represents that of a Provincial Grand Marshal and the badge probably is that of the Provincial Grand Lodge concerned.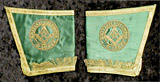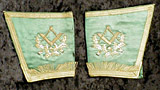 The cuffs at the top are those of the District Grand Master of British Columbia. The second pair of cuffs are those of a Deputé Master (the Square and Compasses combined). The use of thistles as well as the general design and colour is Scottish. These appear to be lodge cuffs rather than those of a Provincial, District or Grand Lodge.