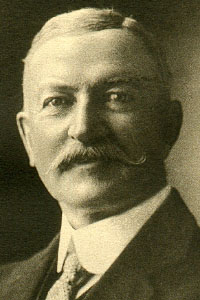 Grand Lodge BC & Yukon photo.
April 27, 1836 - February 25, 1915 Graduating from McGill University in 1860, Dr. Powell took up a medical practice near Simcoe, Ontario. Very shortly he determined to head to the gold fields of New Zealand. En route, he stopped at Victoria, Vancouver's Island on 13 May 1862. Deciding to stay, he soon found himself elected to the colony's legislature and head of the Canada Party which urged confederation with Canada. From 1867 to 1869 he took on the additional duties of Superintendent of Education. Unsuccessful in gaining re-election, after confederation in 1871 he accepted appointment as Superintendent of Indian Affairs for British Columbia, an office he held until 1888. In 1864, Dr. Powell took the lead in organizing the first militia in Victoria, the Victoria Voluntary Rifles. As well as being their first commanding officer, he filled the office of surgeon to the volunteers. As the result of his military work at this time, he later was appointed to the rank of Lieutenant-Colonel. He also served as the first President of the British Columbia Medical Council in 1886, and the first Chancellor of the University of British Columbia in 1890. Initiated : May 1858
Corinthian Lodge No. 101, Ontario
Initiated : March 1, 1858
Raised : April 26, 1858
The Elgin Lodge, No. 384, Montreal SR
Founding Worshipful Master: May 20, 1861
Demitted : April 14, 1862
Erie Lodge, No. 149, Port Dover GRC
Affiliated : October 20, 1862
Worshipful Master : December, 1862
Vancouver Lodge, No. 421, G R.S.
Provincial Grand Master, SR : December 14, 1867
Grand Master : 1867 - 1875 Source: Grand Lodge of British Columbia and Yukon records.