In discussing the Cross and the Octagon, the Cipher writing was mentioned as being derived from the component parts of the eight-pointed Cross. It is really a most ingenious and yet simple device, the key to which each Knight wore upon his breast. The alphabet is divided into two series, the letter N being the central point and belonging to neither. The signs are then arranged in three groups of eight letters, four being taken from each series, the second series is a repetition of the first, the signs being differentiated by dots. The following illustrates the method of arrangement :—
Series I.
Series II. (dotted)
N
1st Group
A
O
B
P
C
Q
D
R
2nd Group
E
V
F
T
G
U
H
S
3rd Group
I
X
K
Y
L
W
M
Z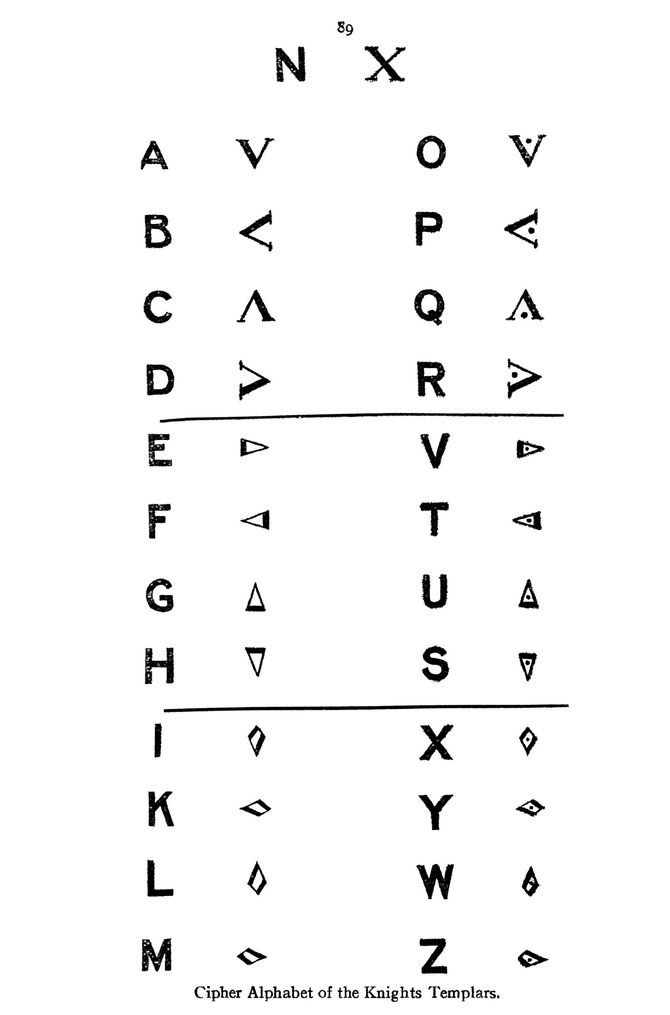 A.B.C.D.
}
are formed from the baseless triangles forming the arms of the Cross (Vide)
O.P.Q.R.
N. — is the chosen centre of the two groups of letters and is a combination of the two vertical arms—it is in the form of the St. Andrew's Cross and is the real Cross of Initiation. This form of the Cross is the centre of the operative M.Ms' Square VII° Talisman [swastika] and is still used in the Great Commemoration Ceremony of the Operative Free Masons VII°. (Vide IV.)
E.F.C.H.
}
are the triangles composing the Cross of the order (Vide II.)
V.T.U.S.
I.K.L.M.
}
are lozenge-shaped figures, made up as indicated in III.
X.Y.W.Z.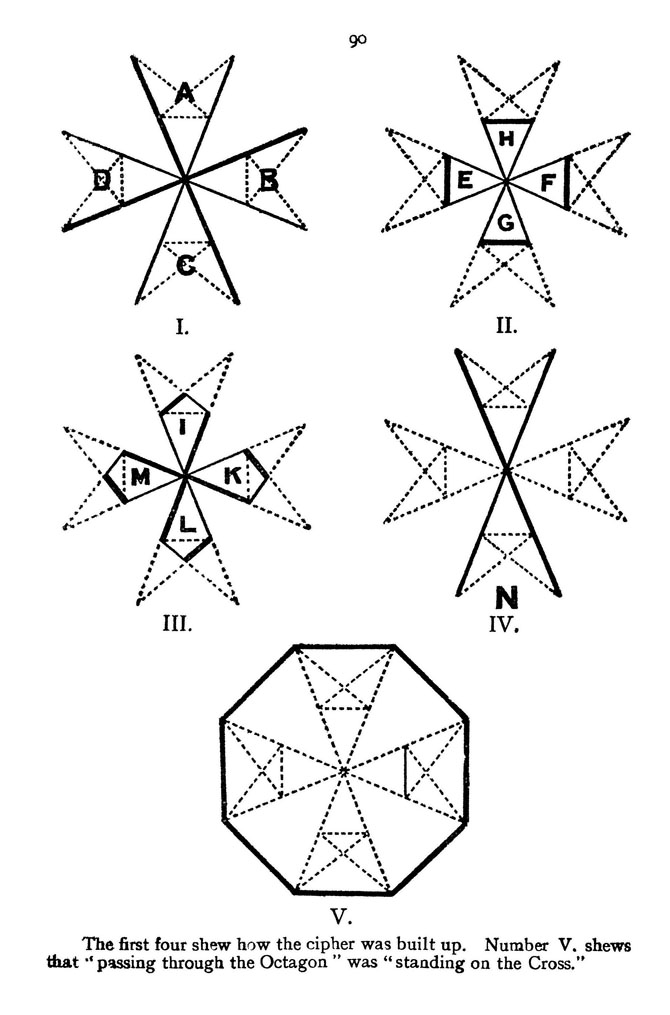 When or how this system arose is not known, but as stated before, three of the letters appear in the Paris MSS. (13th century), and the same characters are found on seals undoubtedly Templar and of early date.
---
The Knights Templars, Golden Rule Lodge, No. 21, Transaction I. by A. Bothwell-Gosse, PM 18°, with which is incorporated a paper by L. J. Dickinson, 18°, and some notes by other members. Le Droit Humain, Universal Co-Freemasonry. Published at the office of The Co-Mason, 13, Blomfield Road, Paddington. n.d. hc 138 p. w/ index. pp. 89-92. Also seeFor other cyphers, see George Oliver's Discrepancies of Freemasonry... and W. Finch's Masonic treatise....