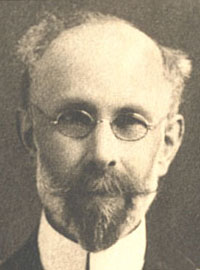 February 5, 1855 - March 24, 1924 There is some confusion about H. J. DeForest's early life: his birthdate is given as either 1855 or 1860 and his birthplace is either St. John, New Brunswick or Rothesay, a town ten miles upriver from St. John. The 1855 date is born out by two Grand Lodges' records. The evolution of his name from DeForest to De Forest to de Forest may be ascribed either to his own hand or the whim of printers and typographers. Regardless, he studied drawing and painting at South Kensington School of Art, London, the Julién Academy in Paris and in Edinburgh, Scotland. From 1880 to 1883 he travelled and sketched in England, France, Italy, Egypt, Palestine, Germany and Switzerland. He first settled in Vancouver in 1891 and settled here permanently in 1898. In 1921 he moved to Banff. His paintings were exhibited in Vancouver in the 1890s and he became the first secretary of the Art, Historical and Scientific Association in 1894. He was also the first secretary of the Vancouver Museum. From 1905 till 1912 he was the curator of the Vancouver Museum and during this time, in 1910, he tried unsuccessfully to establish a masonic museum in Vancouver. His sense of humour is apparent in his painting of Mount Hermon's lodge hall, currently hanging in the Library at Grand Lodge, where he included a goat to the right of the lodge hall. An active freemason, DeForest affiliated with Cascade Lodge No. 12, Vancouver, on 16 October, 1893, from Shakspere [sic.] Lodge No. 124, Melbourne Victoria, Australia. He served as the lodge organist in 1894 and as Worshipful Master in 1910. Henry DeForest died on 23 March, 1924, in Calgary, Alberta. He is buried in the masonic section of Mountain View Cemetery in Vancouver—with both his first wife, Ruth J. DeForest née Newcombe (1832/04/06-1919/11/17) and his second wife, Grace Franks DeForest (1875/09/04-1967/07/16)—: sharing a gravestone with Wiliam C. Ditmars, Grand Master for 1915-1916. Initiated: May 12, 1887
Passed: October 5, 1887
Raised: November 2, 1887
Lodge Shakspere No. 2248 (E.C.) Source: Vancouver Public Library, Fine Arts and Music Division and Grand Lodge of BC & Y records, Grand Lodge of Victoria records (Spelling of Shakspere from warrant.). An excellent account of his life, published in the Fall 2019 issue of Generations, the quarterly journal of the New Brunswick Genealogical Society, has been written by Graham Segger.