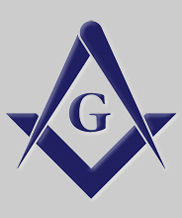 For information on Freemasonry in this jurisdiction, view the British Columbia & Yukon information and resources page. Queries of a general or internet nature may be directed to the Grand Lodge webmaster.
Be the change you want to see
Grand Master's Installation Address:-
June 22, 2013
---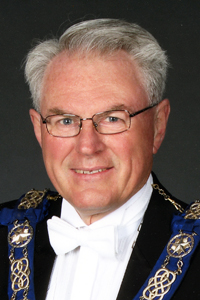 MW Bro. Donald E. Stutt,
Grand Master 2013-2014

Over a thousand days ago you elected me as your Junior Grand Warden. Now, I stand before you as your Grand Master. All I can say is, 'thank you for putting your trust in me!' We consider the Grand Master to be 'First Among Stewards', supporting all lodges within his jurisdiction and ensuring that masonic light shines beneficently on all the brethren. With your help, I reaffirm that statement and pledge that support to our gentle fraternity. In discussions with my fellow brethren, we often reflected on the masonic degrees, the progress we've made and the many lessons we have been taught or learned. Two of the most important of these are making a daily advancement in masonic knowledge, and empowering myself and, by doing so, empowering others with that knowledge. So, now I ask you, are we still striving to do this, because I know I myself have not always been consistent in meeting these two objectives. My year's theme My theme is a paraphrase from the wisdom and inspiration of Mahatma Gandhi, 'Be the difference you want to see'. Be the difference you want to see: in your lodge, in your district, in your jurisdiction, in your home, in your workplace, in your community, but above all... in you, in advancing daily in masonic knowledge and in assisting others to be empowered with that knowledge. Be the difference you want to see. My brothers, this is not a task for one person to accomplish alone. I cannot do this job alone and so I ask for your assistance. Collectively, we can accomplish great things for our gentle Craft. Together, our efforts will create a better and stronger Craft, for current and future members, for candidates, lodge officers, lodges and districts, our great jurisdiction and our communities! So, how do we do this? By 'being the difference' in giving our candidates the best experience they could ever have within Freemasonry: the best ritual, the best memory work, the best festive board and, above all, the best fellowship they have ever had. Then, see them carry this fraternal message outwards to their friends, family and community. In order for this to succeed, all lodges need to embrace this practice as it is a true reflection of our ritual. When something needs to be done, step up, become involved, and just do it. Be that one degree of change. Be the difference you want to see. No doubt we've all heard the statement: 'I, you, we, cannot change the world!' To which I reply 'We can change ourselves by doing and being the things we wish to see.' Rise up to the challenge. No doubt, we've all had some negative experiences in our lives! But, reflect upon the positive experience you have had within Freemasonry. What keeps me going and what I love about Freemasonry are the terrific experiences and all the wonderful people I have met, all of which continue to enrich and expand the quality of my life. And my brothers, you represent that to me! Every time, I visit a lodge I have always been greeted with a firm handshake and a warm smile. This is what I look forward to within every lodge I visit: fellowship. In my travels, I saw a billboard. On it was a picture of Nelson Mandela, with the statement, 'what can one person do'? His answer: 'inspire.' So, I ask you, can we do the same? Can we inspire? Can we 'be the difference we want to see'? How can I and how can you be 'a difference', be 'the change', or participate in 'the change' needed to be initiated across our jurisdiction and beyond? We have the Five Pillar Plan; with strategic management pillars of Leadership, Education, Communication, Membership and Community in place. This is reflected in the committees that are productive and proactive. So, what's missing? Is one thing missing or are there many things missing? Maybe its right in front of me and I just do not see it! When I was elected Junior Grand Warden, I told myself, relax, you've got over a thousand days—1,095 days to be exact—to find what's missing. It came to me in a funny way. The Volume of Sacred Law It's about love, and how we can change the world one person at a time: that love talked about in your Volume of Sacred Law, about brotherly love, relief and truth, faith, hope and charity, about the Golden Rule, about what we ought to be doing within our gentle Craft. Therefore, let us 'be the difference we wish to see' within our Craft. Let us be the brother who assists others as per the Address to the Brethren. Be the change that is needed, make a difference that makes the difference for you personally, for your lodge, and for the greater good of our collective communities. Look to the brethren of the past who shone their masonic light onto the path we now tread, and that we can shine for future brethren to follow. I am that future brother. You are that future brother. Those brethren of yesteryear gave us so much—to read, to comprehend, and to reflect upon. So, do we owe an obligation to our past brethren? Yes, I submit, we do! Then we must be active, to fulfill that obligation. I ask you to reread your obligations and the charges of the three degrees. Reflect upon your obligations, especially those of the Five Points of Fellowship. Ad hoc committees I have struck two ad hoc committees. The first, Mentorship, is to conduct a review of all material regarding mentorship. There is a lot of information about mentorship and this information needs to be catalogued, sorted and then aggregated into one overall programme for the Craft to use. The second, Five Pillar Plan, is to perform a review and audit to establish a baseline of our current successes and challenges, and make objective recommendations in order to ensure we are still on the correct path towards meeting our aspirations and fulfilling our masonic intentions. The work of these committees will be conducted over the next one to three years. Your Grand Lodge principal officers have agreed to these initiatives. The committees may seek your participation. I will appreciate, your participation, as will your Grand Lodge principal officers and our fraternity at large, to the future well-being and successes of Freemasonry in British Columbia and Yukon. Leadership Leadership is nurturing our future leaders today. In the spring of 2014 we will be holding a Leadership & Ladies Conference to be held at Harrison Hot Springs, 28 Ð 30 March 2014. Our Leadership Committee, currently chaired by VW Bro. David Butt is seeking your assistance. Many hands make light work. Your estate and wills Too frequently I have seen treasured and precious masonic items belonging to the brothers, improperly secured and ultimately lost or relinquished. Observing a treasured masonic artifact being peddled on an auction website as a trinket or curious collectable diminishes the stature of our Craft, and disconnects us from our meaningful historical symbols. Can we not create instructions to our family members in the event of a death of a Freemason? Can we not insert a codicil into our wills or have a letter placed with our wills, stating our wishes and telling our family to properly handle and arrange the return of all regalia, jewels, books, paraphernalia, not already bequeathed to a family member or designated recipient already in the Craft, to the care of your lodge or Grand Lodge where they can be properly handled, restored as needed, and secured for re-use by the brethren of the Craft? This small provision will ensure that you, as a masonic brother, will forever be sitting in lodge with us, preserving your masonic legacy for generations in honour and esteem. In closing, let us look to those differences that make us unique yet durable. Let our lodges and districts interact and vigorously grow. Let us constructively assist each other and move toward that perfect ashlar. I challenge you, be that difference you and I wish and want to see.