Freemasonry is an ambivalent presence in the hip hop community. On the one hand there appears to be a growing, misinformed, belief that Freemasonry is a negative influence on society in general and hip hop music in particular, while on the other there are a number of hip hop artists who are representing themselves as Freemasons and, from what they say, appear to have a real understanding about Freemasonry's ideals.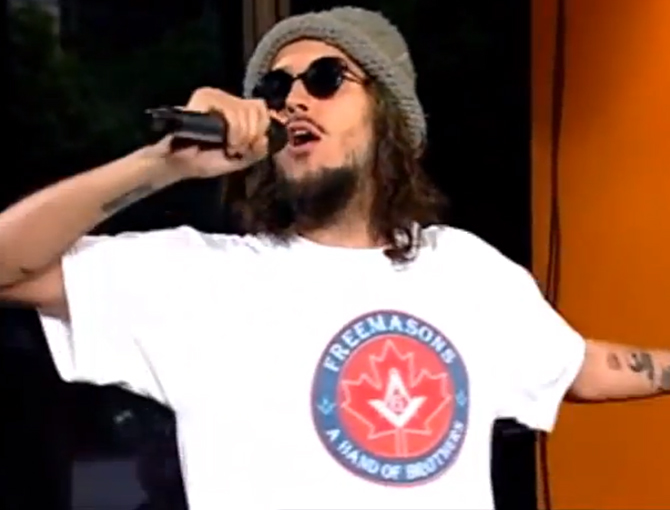 Moka Only Underground legend and original Swollen Member "Moka Only" is clearly comfortable representing himself as a Freemason.
"I was peepin' the twitter and I seen the hashtag saying that you're a Freemason. What exactly is a Freemason?" "Well, Freemasonry is one of the world's oldest and strongest fraternities. It's been around for three hundred years now. Yes, I am a Freemason and I will tell you right now it doesn't have anything to do with the devil and Illuminati or nothing like that. It's a fraternity of brothers all around the world who are trying to make positive change within themselves so they can make positive change around them, as an outcome. Now, that's my take. There are many different angles involved. People join the fraternity for many different reasons. Personally, I'm into esoterica. I'm also into philosophy and I like the idea of charity, and Freemasonry embraces all of those things. I'm proud to be a Freemason." "Dope, man. You heard it directly from Moka Only's mouth, man. Freemasonry's a good thing and Moka Only's a proud Freemason."
Interviewer: Almighttty faygoluvers.net [accessed 2013/03/07] Image from The Torcharoons, Dark To Light Video Feat. @Moka_Only @Thestonedmonk Published on 16 Jan 2013, accessed 2013/03/07.