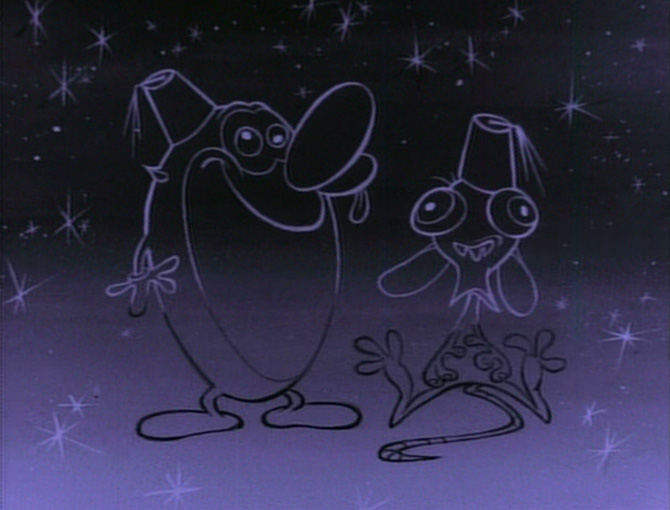 Background to end credits for The Ren and Stimpy Show, 1991-2003.1

The fez The fez is a truncated cone-shaped felt cap, generally red, with a long black tassel. Formerly the national headdress of the Turks, the fez is also worn by men in Egypt and North Africa. Adopted by the masonic service club, the Shriners, in the western world the fez has long been a symbol of partying conventioneers and worn by anyone attempting to imitate the playboy image of Egyptian King Farouk I (1920-1965). It was not uncommon for English Victorian gentlemen of the late nineteenth century to relax at home while wearing loose smoking jackets and fez-like headdresses, an affectation often portrayed in Punch magazine illustrations of the period. This is echoed in the opening sequence of the animated film, Hop. Anti-masonic claims—perhaps originating with Jack T. Chick—that the red fez commemorates the slaughter of Christians in the city of Fès are without any historical foundation. In one of his comic-strip religious tract against Freemasonry, Jack T. Chick records a story that the original fez was red because it was dyed in the blood of murdered Christians. There is no evidence of truth in this story.2 Originally of Greek origin, the fez was worn throughout the Ottoman empire in the nineteenth century by royal decree of Sultan Mahmud Khan II (1808-39). Widely worn as military headdress, among Muslims of South Asia, the fez was a symbol of Islamic identity. In popular western culture the fez continues to represent relaxation, if not debauchery. When Daffy Duck wears a fez, he is representing indolence, not fraternalism. Although the members of Moose International wore a fez from their founding in 1888 until 1992, and the Benevolent Protective Order of Elks have used a purple fez with a white tassle since their founding in 1868, it is the fez-attired Shriner conventioneers of the 1920s who have entered popular history as the archetype of heavy partyers. A few examples demonstrate the prevalence of the image. From Stan Laurel and Oliver Hardy in Sons of the Desert (1933) to The Simpsons, the image of the fez-wearing conventioneer has been used as visual shorthand and for comedic affect.
| | |
| --- | --- |
| | Patrick Star and Spongebob Squarepants drive a miniboat on their way to do "their civic duty".3 |
In the comics, The Yellow Kid (1896) wore a tassled red fez. In one episode of the online cartoon, Home Star Runner (2003) a character named Coach Z wears a crescent and star symbol and a red fez. Middle-aged white conventioneers in fezzes are depicted in Mad Magazine (1998). An episode of The Ant and the Aardvark (1970) shows his fez-wearing lodge brothers. When robots in Futurama (2002) party down, one wears a fez. In print, Michael Chabon's The Amazing Adventures of Kavalier Clay briefly introduces two Shriners in fezzes. Ellis Weiner's National Lampoon's Doon mentions "a convention of Shriners from the Benevolent Planetary Order of Elkoids". And Robert A. Heinlein, in The Cat Who Walks Through Walls, uses a semi-masonic subplot dealing with a stolen Shrine fez. The fez is a common visual device in film. In Killer's Kiss, (1955) two drunken fez-wearing "conventioneers" have a short but important appearance. An assassin wearing a red fez with tassle appears in Austin Powers: The Spy Who Shagged Me (1999). Janet Leigh walks into a back room where fez-adorned men are discussing charity work in Bye Bye Birdie (1963). In Check and Double Check (1930) the brothers in Amos 'n Andy's lodge, the Mystic Knights of the Sea wear fezzes. Other depictions can be found in blacksploitation films such as Willie Dynamite (1974) and comedies like Let's Do It Again. Depictions of middle-aged or older men wearing fezzes and driving mini-cars, such as in a 1999 episode of Johnny Bravo, do not need to be identified as such to be recognized as parodying Shriners. Judge Harry Stone has a fez hanging on his coat rack in several episodes of Night Court, while a Shriner fez is prominently displayed in Ted Mosby's apartment, in How I Met Your Mother (2010). Many more examples could be identified but the point is made. The fez, as a symbol of relaxation and debauchery, has become an ubiquitous icon in western pop culture. 1.

Illustration : The Ren and Stimpy Show. Created and directed by John Kricfalusi, written by John Kricfalusi, Bob Camp and Jim Smith. Broadcast, originally on Nickelodeon, from 11 August 1991 to 24 July 2003. Voices: Billy West, John Kricfalusi, Tom Kenny, Cheryl Chase, Alan Young, Gary Owens. 2.

"We know that Christians were murdered by Muslims for not converting to their false religion. The fez worn by Freemasons is a symbol of the massacre of Roman Catholics in Fez, Morocco who refused to abandon their faith." Order of Friars Minor (Franciscans), Sermon for Trinity Sunday; The Roman Catholic Church: Her Doctrine and Morals, 15 June 2003 http://friarsminor.org/. 2.

Spongebob joins Patrick's club, the Empty Head Society, and they go out to do their civic duty while driving miniboats. [00:04:55]. "The Nitwitting" 2019/01/13, Season 12 | Episode 2. Writer, Kazimieras Gediminus "Kaz" Prapuolenis; Supervising Producers, Marc Ceccarelli, Vincent Waller; Supervising Director, Adam Paloian. Created by Stephen McDannell Hillenburg (August 21, 1961-2018). 23 min., colour.