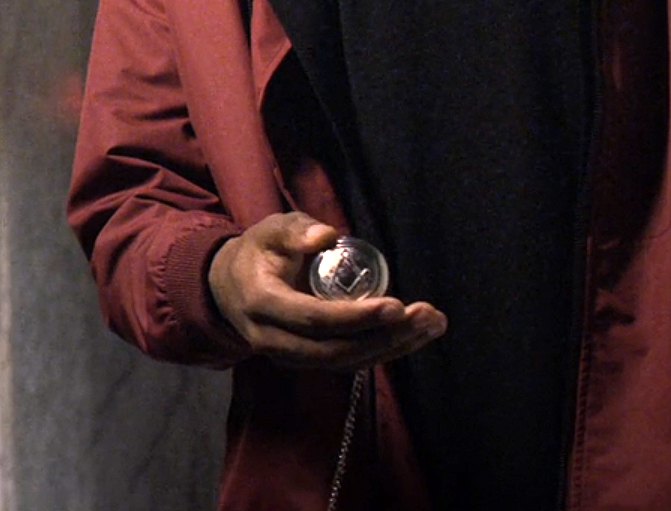 Death Note (2017) Absent in its manga, anime and live-action predecessors, this movie—for the usual marketing reasons—has incorporated a number of conspiracy theory tropes or clichés. The character known as "L" carries a pocket watch with a square and compasses emblem stamped on the cover. [00:49:35] The Hapsburg two headed-eagle, often identified with the masonic concordant body, the Scottish Rite, hides the entrance to the basement of St. Martin's Orphanage in Montauk where "L" was "one of the Rochester wards, orphans raised since childhood to become the greatest detectives the world had ever seen". [00:34:38] At the same location, a ceiling design displays a Worm Oroborus encircling a triangle [00:34:51] and a stained glass window depicts an all-seeing eye in a triangle. The location is perhaps an allusion to the so-called Montauk Project—yet another contemporary conspiracy theory.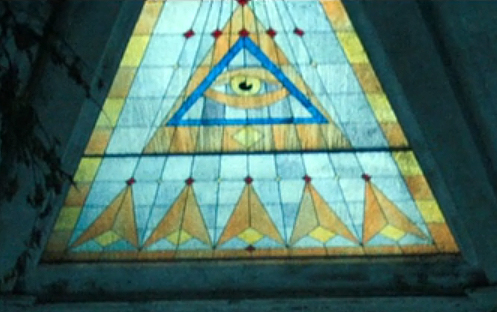 What was originally a sophisticated psychological thriller exploring the question of moral relativity and the idea of spirits living in words, is here unfortunately presented as an unengaging mix of shallow teen romance and commonplace horror. In context it is hard to view the inclusion of a square and compasses emblem as anything more than part of the ongoing fictionalization of Freemasonry by popular culture. The director, Adam Wingard, has said in interviews that he introduced the conspiracy theme to appeal to North American audiences. Anime A 37 episode anime television adaptation, developed by Madhouse and directed by Tetsuro Araki, aired in Japan in 2006 and 2007. Two reference are noteworthy.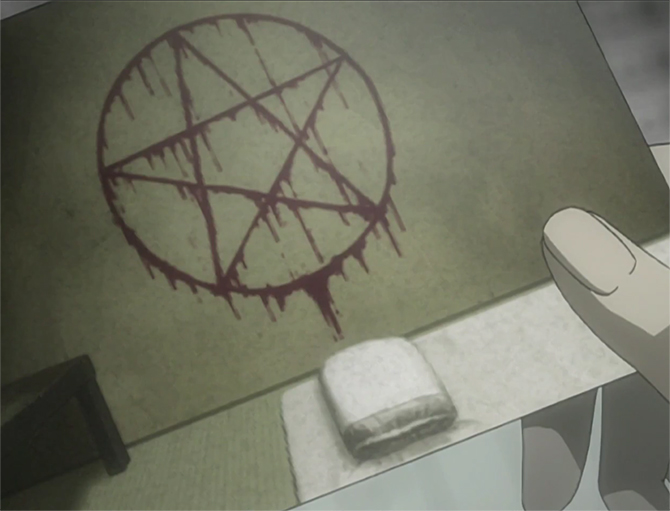 In episode 4, Light Yagami, known as "Kira", is able to make a prisoner draw "a strange picture on the wall with blood from his finger" before killing him. [00:23:00] This pentagram is twice referred to as a "strange picture" but no value or meaning is assigned to the symbol. In fact, Light claims that the picture is meaningless and only intended to baffle his pursuer, "L". In episode 27 the Director of the FBI is named Steve Mason (Sutību Meisun). [00:04:20] This character is killed in the same episode he is introduced. The use of the proper name, Mason when referring to Americans in Japanese fiction is not uncommon. Anime The manga series of the same name, written by Tsugumi Ohba and illustrated by Takeshi Obata, contained none of these themes. Death Note (2017). Directed by Adam Wingard, written by Charley Parlapanides, Vlas Parlapanides, Jeremy Slater. Based on "Death Note" by Tsugumi Ôba, Takeshi Obata. Nat Wolff, Lakeith Stanfield, Margaret Qualley, Shea Whigham, Willem Dafoe, Jason Liles, Paul Nakauchi, Jack Ettlinger, Matthew Kevin Anderson, Chris Britton, Timothy Lambert, Kwesi Ameyaw, Justin Stone, Christian Sloan, Artin John. USA, English, 101 min, Dolby, Colour.
FILM INDEX | PENTAGRAM | ALL-SEEING EYE