References to Freemasonry in popular culture range from the vitriolic to the innocuous. Far more often they are merely misinformed allusions from which Freemasonry faces a far more insidious threat; that of being marginalized, trivialized, and fictionalized. Most of the references noted on this site are harmless, simply pointing out that Freemasonry has played a role in our society; some are humorous, yet some are disturbing in their associations.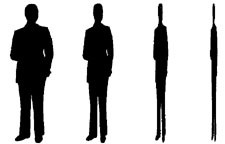 Masonic references in the writings of John le Carré
---
A Perfect Spy
Although there are several references to Freemasonry, and a secondary character named Jack Brotherhood, Freemasonry plays no role in John le Carré's A Perfect Spy.. And had built the little stone wall beside the garden path for her, all in an afternoon to surprise her on her birthday, bullied the mason and the bricklayer. [page 18] But Syd is a good man and a Mason. [page 59] ...and how the love of God came into his good face when he talked about Liberalism and Masonry.... [page 120] ...where the jockeys put on brown caps and jodhpurs and became the Knights Templar Pym had always known they were.... [page 175] Both men are Liberals or Masons or the Sons of Great Men.... [page 178] Nigel waits till they have all left, then like a busy undertaker hastens round the table and takes Brotherhood's arm in a fraternal gesture. [page 322] The God-thumpers are solid for him, so's the Masons, so's the Old Nellies. [page 367] It was being a Mason partly. [page 510] Eventually I discovered that the Embassy travel clerk had an addiction to playing English snooker at some Masonic hostel in the dirty part of town. [page 594] John le Carré. A Perfect Spy. Penguin Books. Harmondsworth: 1986. ISBN 0-14-009229-3. Paperback, 607 pages Absolute Friends
"In the same period the Herr Pastor also rose to rank and influence among the fascistic elite of Schleswig-Holstein. From the politics of the pulpit, he had moved to the politics of the pduedo-liberal ballot box. He joined secret right-wing societies and was admitted to certain very select Masonic committees. John le Carré. Absolute Friends. Toronto : Penguin Books Canada, Limited, 2005. 0-14-301694-6. p. 215. Call for the Dead
... send him naked to Masonic banquets.... [page 45] John le Carré. Call for the Dead. Penguin Books. London: n.d.. Copyright 1961. ISBN 0-14-002066-7. Paperback, 157 pages The Mission Song.
Bruno Salvador is a professional interpreter whose specialty in African languages brings part-time work from British Intelligence. His boss and confidant in the Service is Bob Anderson. Anderson is explaining Salvador's next assignment to him when an offhand mention of the Bible prompts Salvador to reminisce that: "I had never identified, and have not to this day, Mr Anderson's religious affiliations which I suspect were largely Masonic." There are no other masonic references in the novel. John le Carré. The Mission Song. New York : Little, Brown & Company, 2006. ISBN 0316016748. 339pp. p. 50. The Russia House
... the conviction in his voice was as solemn as a Mason's pledge. [page 22] "Jumbo Oliphant. Peter Oliphant. Chairman of Lupus Books. Closet Scottish Facsist. Black belt Freemason. Thinks he's got a special wavelength to the Sovs. Gold card." [page 92] "That he's a man of honour and a fit and proper person." [page 400] "I wrote them of my own free will." [page 423] John le Carré. The Russia House. Penguin Books. London: 1990. ISBN 0-14-013342-9. Paperback, 426 pages The Secret Pilgrim.
Ned, a retired British Intelligence officer, recalls a conversation from his training days. His best friend and fellow student, Ben, has been assigned to Berlin, the most coveted post in the early days of the Cold War. Ned, still in London, is out on his first surveillance assignment when a member of his team asks:
"You a Freemason, College?" I assured him I was not. "Well, you'd best hurry up and join then, hadn't you? Haven't you noticed the saucy way Personnel shakes your hand? You'll never get to Berlin if you're not a Mason, College."
John le Carré, The Secret Pilgrim London : Penguin Books, 1991. ISBN 0-14-014841-8. pb 352pp., p. 50. Smiley's People
References to knocks on a door on pages 24 and 108 as signals, and to a group of emigres as a lodge on page 165, cannot be interpreted as Masonic. The only reference to Freemasonry in John le Carré's Smiley's People is more indicative of common usage than a direct reference to the Craft. "Intelligence people were criminals, charlatans and fools, a masonry of monsters." [page 295] John le Carré, Smiley's People. New York : Bantam Books, 1980. ISBN: 0553141406.