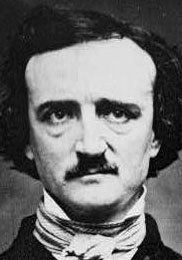 Edgar Allan Poe (1809-1849)
photo by W. S. Hartshorn, 1848.
Masonic references in the writings of Edgar Allan Poe
---
The Cask of Amontillado I broke and reached him a flagon of De Grave. He emptied it at a breath. His eyes flashed with a fierce light. He laughed and threw the bottle upwards with a gesticulation I did not understand. I looked at him in surprise. He repeated the movement—a grotesque one. "You do not comprehend?" he said. "Not I," I replied. "Then you are not of the brotherhood." "How?" "You are not of the masons." "Yes, yes," I said "yes! yes." "You? Impossible! A mason?" "A mason," I replied. "A sign," he said. "It is this," I answered, producing a trowel from beneath the folds of my roquelaire. "You jest," he exclaimed, recoiling a few paces. "But let us proceed to the Amontillado." "Be it so," I said, replacing the tool beneath the cloak, and again offering him my arm. Excerpted from the Internet Wiretap Edition of "The Cask of Amontillado" by Edgar Allan Poe, transcribed from The Works of Edgar Allan Poe: Tales Vol I, J. B. Lippincott Co, Copyright 1895. This text is placed into the Public Domain (May 1993).