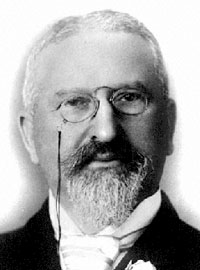 BC Archives Call No.: A-02386
1834-18971 David Oppenheimer served as mayor of Vancouver without pay from 1888 to 1891 and donated his own land for schools and parks. Born in Germany, the five Oppenheimer brothers, Meyer, Godfrey, Charles, David and Isaac,2 moved to the United States in 1848, relocating to Victoria from the California goldfields in c. 1858.3 David, Charles and Isaac4 (d. 1922/12/01 aged 87)5 later moved to Yale to establish an outfitters business, David returning to Victoria by 1863 and Isaac frequently travelling to Barkerville. In 1885 David and Isaac moved to Vancouver where they were strong promoters for the incorporation of the city, which took place on April 6, 1886. Between 1878 and 1886 their Vancouver Improvement Company became the third largest landowner in town. In June of 1886 they built the first wholesale grocery in the city's first brick building, still extant in present-day Gastown at the corner of Columbia and Powell. David and his brother Isaac were elected aldermen for Ward Five in the city's second council in 1887. In 1888 David was elected mayor and Isaac re-elected an alderman. David was re-elected three times—twice by acclaimation— finally resigning in 1891. Mayor Oppenheimer established the basic civic services: water supply, sewers, fire department, streets, schools, and parks. His civic duties were often intertwined with his investments: the Vancouver Water Works Company, the Vancouver Electric Railway and Light Company, and the Westminster and Vancouver Tramway. David succeeded in establishing a steamship connection between Vancouver and Australia. He also took an active role in the founding of the BC Sugar Refinery and was a prime initiator in forming the city's YMCA, the Alexandra Orphanage, the British Columbia Exhibition Association, and the Vancouver Club, of which Isaac was president in 1895-96. David was elected the first president of the Vancouver Board of Trade after its incorporation on December 12, 1887.6 As mayor, David Oppenheimer presided over the dedication of Stanley Park on October 29, 1889. A bust of David Oppenheimer was sculpted by Charles Marega (1876-1939) and placed at the entrance to Stanley Park in 1911. He is buried in the Victoria Jewish Cemetery. Affiliated: 1885/08/19
Demitted: 1890
Vancouver-Quadra Lodge No. 2, Victoria
Affiliated: 1889/12/17
Cascade Lodge No. 12, Vancouver7
1.

Cf.: "b. Jan. 1, 1832 Bleiskastel, Germany; d. Dec. 31, 1897 Germany; arrived Vancouver 1860; d. Dec. 1897, Vancouver." [?] "Mayors of Vancouver", Donna-Jean MacKinnon. Greater Vancouver Book. Charles H. Davis, ed. Vancouver: 1997. David is interred in a Jewish cemetery in Brooklyn, New York with his wife, Julia. 2.

"Transcendental Canada", Aron and Judy Hirt-Manheimer. Reform Judaism magazine. Union of American Hebrew Congregations : 2002. 3.

There is some confusion about David Oppenheimer's early life. Reported as being born in either Frankfurt, the Saar, Bleiskastel, or in Bavaria, David is sometimes reported as having only one brother, Isaac, or four brothers, Meyer being generally overlooked. The reported date of their first appearance in Vancouver varies, and there are also conflicting reports as to whether or not Brooklyn-born Julia was his second or only wife. 4.

Isaac Oppenheimer, Union Lodge No. 58, Sacramento, California; affiliated Cariboo Lodge No. 469 SR, 1871; affiliated Vancouver and Quadra Lodge No. 2, 1879; affiliated Mount Hermon Lodge No. 7; first D.D.G.M. for District 2. Charles Oppenheimer acted as secretary for the freemasons in Yale in 1862. 5.

The Spokesman Review, Spokane, Washington, December 2 and 3, 1922. 6:

Archives, Oppenheimer family fonds Private Record No.: Add. MSS. 108. 7.

Grand Lodge of BC and Yukon records, History of the Grand Lodge of British Columbia A. F. & A. M.; Proceedings, 1890, p. 64..