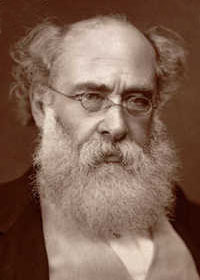 Photograph from Cooper, Thompson: Men of Mark... London, 1876-1878. P.P.1931.pch.
1815- December 6, 1882 Once termed "as the delineator of clerical life in cathedral towns", British novelist Anthony Trollope wrote :
The Macdermots of Ballycloran (1847)
The Kellys and the O'Kellys (1848)
The Warden (1855)
The Noble Jilt (1850)
Barchester Towers (1857)
Framley Parsonage (1860)
Nina Balatka (1866)
The Last Chronicle of Barset (1867)
Phineas Finn (1869)
He Knew He Was Right (1869)
Lady Anna (1871)
Australia and New Zealand (1871)
Autobiography (1876)
The Landleaguers (1882) Nathaniel Hawthorne in a letter of February 11, 1860 to his publisher Fields: "Have you ever read the novels of Anthony Trollope? They precisely suit my taste; solid, substantial, written on strength of beef and through inspiration of ale, and just as real as if some giant had hewn a great lump out of the earth and put it under a glass case, with all its inhabitants going about their daily business, and not suspecting that they were made a show of." Initiated: November 8, 1841
Raised: December 31, 1841
Banagher Lodge No. 306, Ireland Source: Hamill, John et al.. Freemasonry : A Celebration of the Craft. JG Press 1998. ISBN:1572152672.
British Authors of the Nineteenth Century, pp. 629-631
Never comfortable being photographed, Trollope was fonder of an oil portrait by Samuel Laurence (1864).