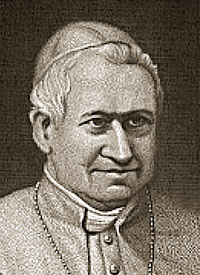 Pope Pius IX - freemason?
While the author of this article in 1936 was convinced that Pius IX was a freemason, and other reports are available, it should also be noted that this website is not privy to Italian masonic records and cannot testify to their veracity.
About this time—so at least it is gravely related—the Roman Catholic Bishop [at Buenos Ayres] fulminated a Bull against all Masons within his bishopric ; he went the length of declaring the marriage contract dissolved and absolving the wife a vinculo matrimonii, in all cases where the husband refused to renounce Masonry. Some parties, as high in temporal authority as the Bishop was in spiritual, appealed from this decree to Pope Pius IX at Rome. After waiting a long time for a reply or decision upon the appeal and receiving none, an inquiry was instituted as to the cause of the delay, when it was found, to the great satisfaction of the Roman Catholics of La Plata, who were unwilling to bow to the behests of the Bishop, that in 1816, the venerable Pontiff—then a young man—received the Degrees, and took upon himself the obligations of Masonry! The full story is told in Dudley Wright's Roman Catholicism and Freemasonry, pp. 172-4. See also the World-Wide Register, p. 528. A statement of similar character was made long before by J. L. Laurens in his Essai historique, with regard to, Pope Benedict XIV, of whom it is related that, being himself a Freemason, he, not unnaturally, mitigated in some slight degree the rigour of the Papal edict against the Craft, which had been launched by his immediate predecessor, Clement XII.

Gould's History of Freemasonry Throughout the World, Robert Freke Gould, revised by Dudley Wright, Charles Scribner's Sons : Charles Scribner's Sons, 1936 v. 4 p. 170.