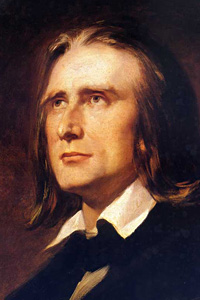 Portait de Franz Liszt par Wilhelm von Kaulbach.
October 22, 1811 - July 31, 1886 Hungarian piano virtuoso and composer, Liszt studied in Vienna and Paris and was on the concert stage from 1822-48. In 1861 he went to Rome where he became a member of the Catholic Franciscan order. His works include twelve symphonic poems, a coronation mass, two symphonies, and a large number of piano pieces. Upon his initiation, he made this statement. Initiated: September 18, 1841
lodge Zur Einigkeit, Frankfort-onthe-Main
Passed and Raised : February 1842
lodge Zur Eintracht, Berlin Source: William R. Denslow, 10,000 Famous Freemasons, 1959.