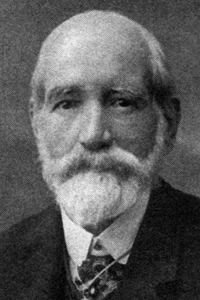 John Yarker, Co-Mason, April 1913, frontis.
April 17, 1833 - March 20, 1913 Yarker was neither a degree-monger, nor a charlatan, for he believed what he wrote, that the many degrees he had discovered all predated regular Freemasonry. He never invented evidence but accepted, uncritically, the invented evidence of others. His desperate attempt to ensure the continuance of the Ancient and Primitive Rite led him into the company of the fraud, Theodore Reuss, and Aleister Crowley. Expelled from the Ancient and Accepted Rite, he severed all connection with regular Freemasonry and later published The Arcane Schools: a review of their origin and antiquity; with a general history of Freemasonry, and its relation to the theosophic, scientific and philosophic mysteries, (Belfast: 1909); and was publisher of The Kneph, the official journal of the Antient and Primitive Rite, from 1881 to 1900. Author of 26 short papers in the Transactions of Quatuor Coronati Lodge No. 2076, he was an active promoter of the Royal Arch, Ancient and Primitive Rite, Knights Templar, and the old York degrees of Heredom-Kadosh. Initiated: October 25, 1854
Lodge of Integrity No. 189 (later 163) Manchester
Affiliated: April 27, 1855
Worshipful Master, 1857
Fidelity Lodge No. 623, Dunkinfield
Demitted: 1862 See: John M. Hamill, "John Yarker: Masonic Charletan?" Ars Quatuor Coronatorum vol. cix (1996) pp. 191-214.