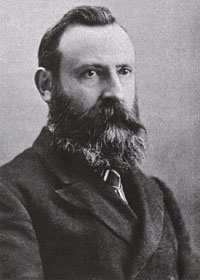 Frontispiece photo by Walter L. Colls, Ph. Sc., A.Q.C., 1893
December 17, 1848 - July 30, 1925 A dedicated physician and public servant, Dr. Westcott D.P.H. was Coroner for North East London and author of several medical texts. An active Freemason, he is best remembered for having created the Hermetic Order of the Golden Dawn (HOGD) with Samuel Liddel Mathers and Dr. William Woodman, sometime before February 12, 1888. This was not a Masonic society but attracted many Freemasons of the day. From 1892 he administered the Societas Rosicruciana in Anglia (SRIA), leaving the Golden Dawn, and its contentious members, to Mathers. After 1910, Westcott had no further involvement with the Golden Dawn. Initiated: October 24, 1871
Master: 1877
Parrett and Axe Lodge No. 814, Crewkerne, Somersetshire
Member
Lodge of Brotherly Love No. 329, Yeovil
Rite of Swedenburg
(July 1876)
Societas Rosicruciana in Anglia
(April 15, 1880)
Hermetic Society (1886)
Master: Quatuor Coronati Lodge
(1893 & 1903) Ars Quatuor Coronatorum. Vol. I, 1895. p. 37.