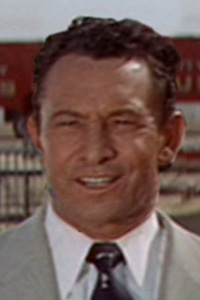 June 10, 1903 - July 19, 1965 Big game hunter, animal trainer and circus owner, Clyde Raymond Beatty—the first lion tamer to be featured in a circus—was a popular and famous figure in the mid-twentieth century. Armed only with a bull-whip, wicker chair, and a pistol strapped to his hip, at the height of his fame he would enter a cage and confront forty lions, tigers, pumas and hyenas.

He appeared in eight feature films between 1933 and 1954, numerous radio programmes and on the cover of Time magazine on 29 March 1937.

In 2004 the Clyde Beatty-Cole Bros. Circus dropped "Clyde Beatty" from its name after it terminated its elephant act.

Initiated: Craftsman Lodge No. 521, Detroit Source: Denslow, 10,000 Famous Freemasons. Image: Ring of Fear (1954).