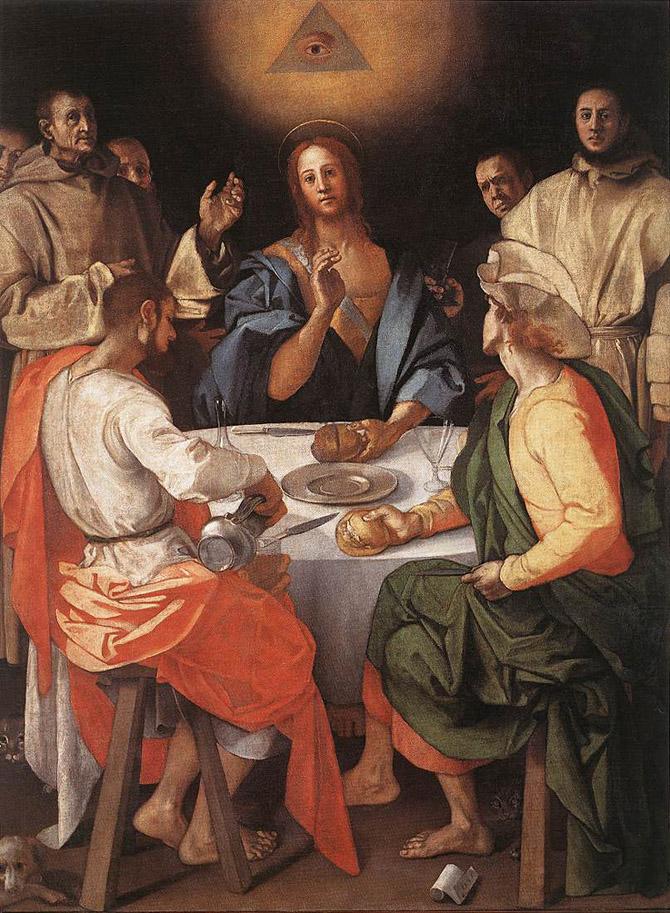 PONTORMO, Jacopo (b. 1494, Pontormo, d. 1557, Firenze)

Supper at Emmaus
1525
Oil on canvas, 230 x 173 cm
Galleria degli Uffizi, Florence

Pontormo executed the canvas for the Carthusian monastery at Galluzzo where he worked between 1523 and 1527. The painting depicts the episode in which the now risen Christ, repeating the same act of breaking the bread that he had made during the Last Supper, is about to be recognized by two of his disciples. The inspiration behind the figurative concept is certainly Dčrer, from an engraving belonging to the series of the Little Passion (1511). Dčrer and northern figurative culture in general were also behind the most striking characteristics of the canvas, the close adherence to an everyday reality that has frequently induced authoritive scholars of Pontormo to interpret this extraordinary work as heralding the realistic research of Caravaggio, Velçzquez and Zurbarçn. The elimination of the distance between painted event and spectator and the foreshortened contact with reality are effects created by the inclusion of portraits of people living at the time and participating in the event, and the large naked feet of the disciples in the lower part of the painting, where the heads of cats can be seen, their inquisitive gazes directed towards the onlooker. A crouching puppy can just be seen in the lower left corner of the painting. The same attention to realism is also evident in the careful representation of the group of objects forming a still life on the table. The eye of God, painted above Christ's head, is a later addition. Text and image mirrored from : gallery.euroweb.hu/html/p/pontormo/3/04emmaus.html.