Robert Burns, Poet Laureate... or not....
---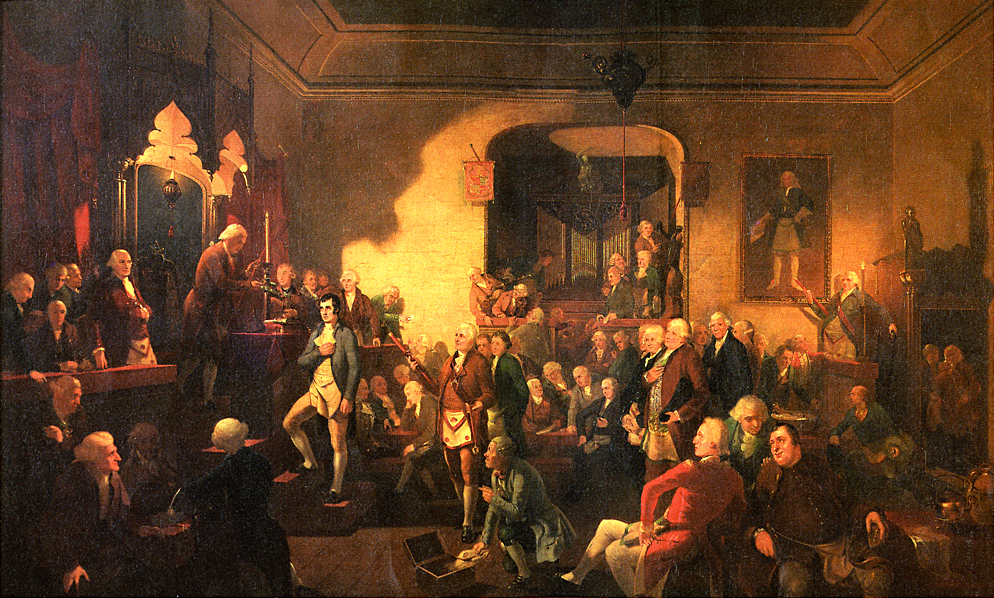 | | | |
| --- | --- | --- |
| "On February 1, 1787, Burns became a member of the Lodge of Cannongate Kilwinning, No. 2, Edinburgh, which possesses the most ancient Lodge-room in the world, and this lodge is said to have invested Burns with the title of the Poet-Laureate of Lodge Cannongate Kilwinning on March 1, 1787, from which time on Burns affixed the word Bard to his signature." 1 "The fact of the inauguration of Burns as Poet-Laureate was, some time ago, finally and judicially established after an elaborate and exhaustive inquiry by the Grand Lodge of Scotland, which possesses the well know historic painting representing the scene, painted by Brother Stewart Watson, and presented to Grand Lodge by Dr. James Burness, the distinguished Indian traveler and administrator, and a distant relative of Burns through his ancestry in Kincardineshire, from which Burns' father migrated to Ayrshire."2 Although the Minute-book for the meeting held on March 1st contains no mention of this honour, and the figure in the bottom right corner, Francis Grose, did not become a Freemason until 17913, this does not of neccessity call into question the title but only the date of the occasion upon which it was bestowed. Researchers are directed to a little volume entitled, "A Winter with Burns" for a key to the portraits.4 | | On reading Bro. Michael Spurrs inaugural address5 I noticed a factual error which I pointed out to him. He has requested me to draw it to your attention. On Page 6, lines 32-34, he states that Burns 'became a joining member of Canongate Kilwinning Lodge No. 2 (sic), where he was made Poet Laureate of the Lodge in 1787.' Reference to the recent book on Burns published by Ian Allan would refute this. The facts appear to be as set out below. Dr Charles Rogers stated that Burns was made Poet Laureate of Lodge Canongate Kilwinning on 25 June, 1787; however, on that particular date Robert Burns was in Anstruther. A Brother Campbell, the only mason to have claimed to have been present on that occasion, was born in 1776 and initiated in 1801. One oil painting of Burns being made Poet Laureate of Lodge Canongate Kilwinning, which is on display in Edinburgh, repays careful study. It was painted by Stewart Watson in 1845. Many persons depicted in this painting were not masons; one was born in 1659 and appears remarkably youthful for his advanced age, although unfortunately (like several other depicted in the picture) he had passed to the Grand Lodge above long before 1787. One made his first visit to Scotland in 1789, two years after the event and another left Scotland in 1781, never to return. On 1 February, 1787, Robert Burns made his only recorded visit (as a guest) to Lodge Canongate Kilwinning and was assumed a member of the lodge; ie. he became an Honorary Member and as such was ineligible to hold any office, real or imaginary. As far as is known this is the last occasion on which he visited any lodge in Edinburgh. In 1815, the lodge members were invited to subscribe to the building fund for their Honorary Member 'Poet Laureate' Burns' Mausoleum. The office of Poet Laureate in Lodge Canongate Kilwinning appears to have been created around 1835, when James Hogg, the Ettrick Shepherd was elected to the position. The confusion appears to have arisen because Rev'd. John Smellie recalled being told by Burns that he had been made Poet Laureate to a group of gentlemen in Edinburgh; as far as is known this was to a gentlemen's club not to a lodge. 6 |
1.

Albert G. Mackey. Encyclopedia of Freemasonry, Macoy Publishing, Inc., Richmond, Virginia: 1966. p164.
2.

Lodge Cannongate Kilwinning, Saint John's Day Booklet. 1925.
3.

Dudley Wright. The Freemason. London: February 7, 1925.
4.

James Marshall (d. 1870), A winter with Robert Burns: being annals of his patrons and associates in Edinburgh during the years 1786-7, and details of his inauguration as poet-laureate of the Can:Kil. Edinburgh : Printed by P. Brown, 1846.
5.

Michael Spurrs, "Freemasonry - Child of the Enlightenment," AQC, vol 109.
6.

John W. Mitchell, Letters. Ars Quatuor Coronatorum vol. 110 for 1997, published 1998. p. 265.