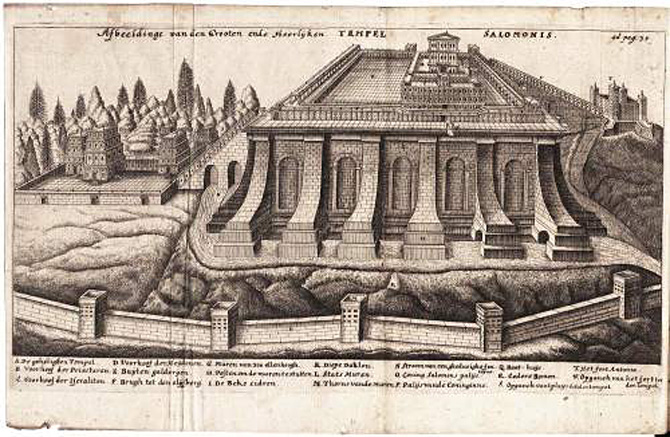 King Solomon's Temple The chief rabbi of Hamburg in 1628, Jacob Judah Leon (1602-1675)—known as Leon Templo—with the assistance of the Christian theologian Adam Boreel, built a model of the Temple based on the descriptions in the Hebrew Bible, the writings of Flavius Josephus and rabbinic literature. Leon also wrote a booklet on the subject in Spanish, Retrato del Templo de Selomo. A later illustration of the model is surprisingly different in appearance.
KING SOLOMON'S INDEX
Also see Rabbi Jacob Jehudah Leon, W. J. Chetwode Crawley, AQC, vol. xii (1899), pp. 150-58. ; "Leon Templo - Rabbi Jacob Judah Leon" by RW Bro. Leon Zeldis ; A.K. Offenberg, "Jacob Jehuda Leon (1602-1675) and his Model of the Temple" in J. van den Berg and Ernestine G.E. van der Wall, edit. Jewish-Christian Relations in the 17th Century. Studies and Documents (Dordrecht etc. 1988), pp 95-115 ; A L. Shane, 'Rabbi Jacob Judah Leon (Templo) of Amsterdam (1603-1675) and his connections with England', Transactions of the Jewish Historical Society of England Vol. XXV (1973/75).