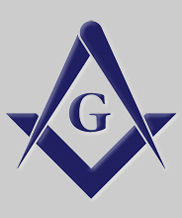 For information on Freemasonry in this jurisdiction, view the British Columbia & Yukon information and resources page. Queries of a general or internet nature may be directed to the Grand Lodge webmaster.
Strive for excellence
Grand Master's Annual Address:-
June 22, 2013
---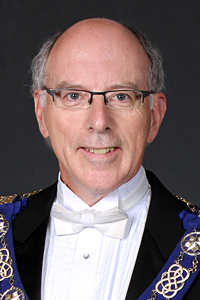 MW Bro. G. Murray Webster,
Grand Master 2012-2013

We have had a wonderful masonic year. The support and encouragement expressed to each Grand Lodge officer, including the Grand Master, has been outstanding. Making a Difference Regardless of age, gender, race or religion, all leaders strive to make a difference. They undertake initiatives, programmes or events which will, hopefully, improve the success of the organization. This year the theme of "Strive for Excellence" has been used to make that difference. All officers have promoted this theme; be the best you can, do what you do to the best of your abilities, bring your 'A' game, and aim high and have high expectations. "Tools" prepared by and available from the Grand Lodge "Tool Kit" have been promoted. Like any toolkit, tools are of no value unless they are used. These tools do nothing if they sit unused and only collect dust. Be Brave When faced with a decision the easiest thing to do is to do nothing. The hardest thing to do is to undertake a task which is outside one's comfort zone. We've been encouraged to be brave and, surprisingly, our comfort zone has broadened. Lodges and brethren have been encouraged to try new things, and to take a risk. We all agree that our ritual, landmarks and protocols don't need to change (in fact they need to be reinforced). However, how we deliver Freemasonry needs to be constantly flexible to meet the needs of our membership. Let's ensure that our fellowship—to both those attending meetings and those not attending—is as warm and sincere as we profess it to be. Let's ensure we are providing a meaningful experience to all our membership. We need to be brave if we are going to properly address these issues. Have fun A main reason men join Freemasonry is for fun and fellowship. They recognize the benefits of the calm and quieting atmosphere of the lodge room, and the joy and laughter of the festive board. While there are serious moments in our activities, there should also be many opportunities for fun. This year we have used "That's Amore", lemon meringue pie, Murray Mints and the Masonic Toolkit to inject fun into our activities. Strive for Excellence An ambitious plan of activities was laid out at the 2012 Grand lodge Communication. Some proved to be successful and other were not as successful as hoped. Regardless, an effort was made to make a difference and some of the new activities may continue in the future. Membership Providing a meaningful experience and enjoying the masonic experience are reasons for joining and participating in the activities of lodges. The use of the Six Step Program has been promoted in the past year as a tool for those indicating an interest to join Freemasonry. This programme provides a process for a prospective candidate to better understand Freemasonry and for us to better know him. Freemasonry is not for everyone and the Six Step Program is a means of ensuring only men of good character are joining. Some say the programme takes too long while other say there should be no rush in joining a lodge and progressing through the degrees. One District Deputy Grand Master has noted in his annual report "The Six Step Program has provided a more prepared applicant for Freemasonry." 'Striving for Excellence' by using the Six Step Program has been emphasized in the past year. The masonic experience is greatly enhanced by suitable mentoring as the candidate proceeds through the degrees. Various versions of mentorship, in various forms, are used in our jurisdiction. It is encouraging to know that our Deputy Grand Master (and Grand Master-designate) plans to focus on mentorship as part of his year's priorities. Brethren are thirsty for knowledge and proper mentorship is a means of providing that knowledge. A Masonic Music DVD has been made and can be used when opening and closing a lodge, and for degrees and installations. This DVD is available as a result of the dedicated efforts of W Bro. Dennis Richards of Temple Lodge No. 33, and others. Music is part of the masonic experience and this DVD provides that music when an organist is not available. Education Appreciation is extended to those brethren who have taken a leading rôle in our jurisdiction as Lodge Education Officers (LEO) and District Education Officers (DEO). Those who have participated have personally gained from the experience. "Classic Masonic Papers", recommended by the Victoria and Vancouver Lodges of Education and Research, have been distributed throughout the past year for reading and discussion. Many LEOs and DEOs have utilized this tool for education and information in their lodge or district. The Grand Masonic Day, spearheaded by W Bro. Wes Regan of Mount Hermon Lodge No. 7 was a great success. The presentations were interesting and thought provoking. Live-streaming the event using the internet allowed viewing by Freemasons throughout the world. Plans to build upon this year's success are underway. The use of the Lodge Excellence and Award Program (L*E*A*P) was promoted as another tool available for lodge improvement. It is encouraging to see so many lodges being presented with their award, and for 'striving for excellence' by following these best practices. Leadership The Principal Officers, DDGMs and Grand Lodge committees have endeavoured to 'Strive for Excellence' with respect to leadership of the Craft in the past year: The priorities of this jurisdiction, as identified in the Five Pillar Program, are being undertaken: • Lodge amalgamation, and lodge closure have taken place; • A new lodge has been instituted; • District consolidation has been considered; • The DDGM-designate trial is underway; • Assistance to Building Societies has been investigated and provided; • A mediation process has been established • Planning for the 2014 Leadership and Ladies Conference has started; • Principal Officers have been granted approval to start planning the initiatives they wish to undertake when they are Grand Master. Community With the input from others the Community Relations Committee is reorganizing itself and endeavouring to establish priorities. The Cancer Car driver programme continues to be an outstanding programme, one which is very much appreciated by those who use the service. We owe a huge debt of gratitude to the many men and women who volunteer to fill the various duties of the programme. 'Well done!" The Cancer Car driver programme started in the Prince George area earlier this year. Funds from the BC Masonic Foundation and from donations given to the Grand Master throughout the year for the charities of his choice were donated to 18 charitable causes designated by Grand Lodge officers. Several constituent lodges and districts undertook activities to celebrate the first Family Day holiday in British Columbia in February. May these activities continue as a lasting tradition. Freemasons will join Congregation Emanu-El in Victoria on 2 June to celebrate the 150th anniversary of the laying of the cornerstone of their synagogue by Freemasons. Experience Being the Grand Master of the Grand Lodge of British Columbia and Yukon has been an honour and an unforgettable experience. My thanks go to the brethren of our jurisdiction for their support, to all the appointed and elected Grand Lodge officers, particularly to RW Bro. Michael Cockerell, Grand Director of Ceremonies, and VW Bro. Ron Cawthra, Grand Marshal, for their loyal and dedicated service to the Craft, and to my wife, Laurel, for her ongoing love, support and encouragement. We have endeavoured to 'strive for excellence' in all that we have done.