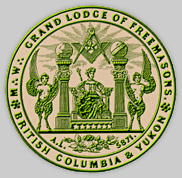 For information on Freemasonry in this jurisdiction, view the British Columbia & Yukon information and resources page. Queries of a general or internet nature may be directed to the Grand Lodge webmaster.
Look beyond the trees
Grand Master's Annual Address:-
June 21, 2008
---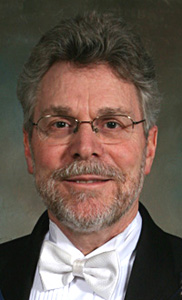 MW Bro. Stephen Godfrey,
Grand Master 2007-2008

To Members of the Most Worshipful Grand Lodge of Ancient Free and Accepted Masons of British Columbia and Yukon. Introduction I welcome you all to this the 137th Annual Communication of Grand Lodge of British Columbia and Yukon, and again to the City of Burnaby. A special welcome is extended to all visitors to our meetings, from as far as Oregon in the south, Alaska in the north and as far east as Manitoba. I bid you all welcome, thank you for visiting us, and wish for you wonderful stay in this the far western Province of our vast Country. I am certain you will find hospitality in British Columbia and Yukon expansive and unreserved. It is our way of expressing our thanks for the many courtesies and generosities my wife and I have received at your hands when traveling these past years. One certainly feels that time accelerates in the year of Grand Master and quickens even more when the Annual Communication fast approaches. It seems no time since I was speaking to the appointed officers and the District Deputy Grand Masters Seminar in April 2007. But indeed the Masonic year has come and is almost over for us all. Now I know what Past Grand Masters have said in previous years. Until I entered this position I did not fully comprehend the magnitude of the task and the short time given to expedite mandates and plans, for the improvement of Freemasonry in our vast jurisdiction, the second largest geographical jurisdiction in the world. In my travelling, I have enjoyed the beauty and variety of our jurisdiction. In Memoriam Each year we lose many brethren who have travelled with us over years sharing fellowship and comradeship. The inevitable time comes when they are taken from us to assemble in those immortal mansions. This year we are saddened by the passing of three Past Grand Masters, Most Worshipful Brother T. Y. McLachlan, Most Worshipful Brother D.R. Grant, and Most Worshipful Brother A. A. Reid, and our Honorary Past Senior Grand Warden, RW Bro. Gary McCullough. Each has a special place in my memory as I am sure they do in yours. Bro. McLachlan - the first Grand Master I met at a District meeting, Bro. Grant - we shared similar vocations, Bro. Reid - I met him when we were masters the same year. Our lodges' furnishings were used for Grand Lodge in 1982 and we were asked to explain the carvings of the furnishings. Bro McCullough was most supportive of our Leadership Seminar when it went into Dawson Creek, the first time a Grand Lodge program had been into Dawson Creek in living memory. These and other past Grand Lodge Officers will be missed. A memorial service is to be conducted later this morning. State of the Craft Last Annual Communication you approved of a Five year plan for the jurisdiction. This has been the first year of action in setting on the road towards some clear visions we have of where we wish the jurisdiction to be and what we want to achieve. The five main areas of the plan have each been addressed, some more than others. Some have been advanced well along to the goals we have set, while other areas are in progress, yet some have not been started. Leadership You will hear of the Officers Conference which took place in April. It was a success and as with all new programs, further work is needed to improve for the next time. The Conference was full. It was also a busy weekend of work. 22% of Districts held Masonic Days, in which some activities were scheduled for improvement in leadership skills. A third Seminar was held for the incoming District Deputy Grand Masters and which took place in early April. This is the fourth seminar, the first being that held in MW Bro. William Carter's year in 1999. Most valuable to these seminars is the consistent curriculum that is being presented, and is now reflected in consistency in many areas of the protocol of Grand Lodge Officers. A survey was conducted to determine the extent to which lodge and individuals were supporting any youth organization. You will be hearing the results of the survey in the report from the Ad Hoc Committee for Youth. Education Several initiatives have been a major focus of this year. The Look Beyond the Trees pin obtained by brethren who have presented education at lodge meetings and social events, has been a way to count the amount of education that has taken place in our jurisdiction, as well as an incentive for brethren to build their bank of Masonic Speakers. One district has received 60 pins this year. Some pins have been presented to members not in the jurisdiction and still others to non-members who received a pin because of their presentations to members. I have personally awarded pins to almost all of the Grand Masters of Canada as well as to the Grand Masters of Washington, Oregon, Alaska, Oklahoma, China, and India. A total of approximately 850 pins have been presented this year. When I attended the Grand Lodge of Massachusetts, a brother from Boston approached me. He had one of the pins in his lapel and was pleased to inform me that he received his when he attended a lodge in Vancouver and spoke on further meaning to the degree which was conferred that evening. About 55% of our lodges have libraries. Few have books catalogued and many libraries have been created from donations. About 5 lodges budget for the purchase of books to increase their collection and keep them up to date with recent published books. A careful plan of building resources for libraries is necessary for two reasons, first to remain current with developments in Freemasonry - and developments are taking place at high speed - and second to offer some basic books of quality to Mason beginning their Masonic Journey. Some mentorship programs include a list of suggested reading following the completion of the three degrees. Reading lists were presented to the District Deputy Grand Masters and I again bring them to your attention. Distinguished Masonic writers have offered their choice of good books to begin personal and lodge libraries. You will be hearing about the development of the Diploma Program from the Education Committee. The program is progressing well and will be launched shortly. Within the next two years the program will be completed. I encourage all to consider taking the diploma course. We must build the Masonic scholars in our jurisdiction. This program is an excellent start for the young mason to learn the trade. I encouraged lodges to seek out speakers - non-members of the fraternity. Our Deputies reported only 9 outside speakers were invited to address lodge members this year. Communication In June last, I encouraged lodges to maintain good communications with the membership. It has been reported that about 75% of lodges maintain strong communication with the membership through various means. I have had the privilege of receiving a copy of all lodge notices each month, often accompanied with a newsletter. Some lodges are incorporating their notices with a newsletter. Most will have the newsletter separate from the lodge notice. Not all lodges have any newsletter; if I were a member of the lodge I would have difficulty in knowing anything of the membership. More of our Lodges are setting up websites and even some districts are now establishing a website. All of these changes can but improve communication. Membership District Deputy Grand Masters reported to me that about 50% of lodges have had discussions about the development of plans, long term as well as strategic plans. Most of these discussions have taken place at Committee of General Purposes meeting each month.. I still maintain that an off-sight meeting of the lodge membership to discuss the state of the Craft would be most beneficial. This year and for the past two years you have been encouraged to use the Lodge Achievement and Recognition Awards Program (LARAP) to motivate memberships. While many lodges are well motivated, some lodge would do well to consider the program. Of those District Deputies who contacted me, they reported 30% of lodges have shown interest in the awards program. Community Lodges have a variety of ways they outreach into their communities, parades, church parades, scholarship nights when bursaries are presented, donations to local hospitals, fire departments, etc. with a presentation of equipment. Some lodges opened their doors to the public. In most cases, some lodges received applications Board Meetings Four Board meetings were held - August 22nd, December 7th, March 13th, May 1st. In all cases the phone conferencing hardware was used to connect with as many of the Board members as was possible. Apart from the reception of reports from standing and ad hoc committees, major work this year has been the discussion of the makeup of the Board, the role of the Regional Representatives, and the Manual on Protocol. Details of the work can be found in the Board of General Purposes Annual Report. Conferences This year I attended three conferences, the Western Canada Conference at Canmore in October 2007, the Western Conference held this year in Louisville, Kentucky - a prelude to the Grand Masters of North America Conference in February 2008, - and the All Canada Conference at Winnipeg in March 2008. The 67th Western Canada Conference held again in Canmore, offers opportunity for the Grand Line Officers to connect with their counterparts in the other three provinces. Our Senior Grand Warden, RW BRo. Tuckey presented an excellent paper titled Growth in Freemasonry - The Generations - definitely worth presenting and discussing in lodge. I again remind brethren that the proceedings of this conference are distributed to each lodge in the month of March. They are an excellent Masonic educational resource. Perhaps previous years' copies might find the light of day again and brethren asked to present a paper, summarize its contents and lead a discussion. A total of 300 papers written from 1941 to the present, are in those books - many have topics still very relevant today. The Western Conference is attended by Grand Lodge Offices of California, Oregon, Washington, Alaska, and Hawaii. An invitation was extended to British Columbia and Yukon to join this conference. Since it is always held in concert with the Conference of Grand Masters of North America, and since this conference is not always attended by a delegation for this jurisdiction I declined the invitation to join. The Conference, however, extends an invitation for us to participate with them at any time we attend the Conference of Grand Masters of North America in the future. I was privileged to be elected as President of the All Canada Conference 2008 in 2007. This conference was attended by our Deputy Grand Master, RW Bro. Glenn Allen, Grand Secretary, MW Bro. James Gordon, and our Grand Director of Ceremonies, RW Bro. Arthur Scott who presented a paper entitled "Eleven Secret Herbs and Spices." I chose as the theme, Freemasonry's Contemporary Challenges. The main speakers came from the attending groups of Grand Masters, Deputy Grand Masters, Grand Secretaries, and Observers. District Visits It has been a great pleasure for me to attend 27 district meetings and meet the brethren of the jurisdiction. On several occasions, as time permitted, I met with brethren who, for various reasons, were unable to attend the district meeting. Sometimes these gatherings were purely social times and other times I was pleased to have opportunity to present a long service award. On all occasions I was struck by the enthusiasm and knowledge of the years they have experienced in the Craft. This year I requested all District Deputies to consider presenting a donation to a local charity. Some did. Many presented me with a cheque and asked that it be placed towards a charity of my choice. I have this year presented the following amounts: Bursary - $1830.84
Benevolence - $450.00
Community Charities - $3594.61
Barry Hammond Fund - $680.00
Learning Centre - $2472.00 I have presented many 50 and 60 year long service certificates and jewels. At District 22 meeting, I presented a total of thirteen Long Service certificates and jewels. It was so crowded we could only present in sets of three. What a nice problem to have. All visits included a banquet to which, in a majority of cases, our Ladies were invited. It is pleasing for me to see the increased wish of brethren to have family involved in our social events. At all meetings I was pleased to respond to the toast to Grand Lodge. At each meeting I presented an educational paper as well as commented on issues that were being discussed in Grand Lodge and reported on the work of the Board of General Purposes. Special Visits and Fraternal Events In the year, I had opportunity to connect with other Grand Lodge Officers in a variety of venues and circumstances. In all cases the opportunity to discuss issues affecting our Freemasonry in our jurisdictions, helped to learn deeper the problems we all face. As much as was possible I transmitted to the officers, at our monthly Principal Officer Meetings, discussions I had, programs I had learned about and ideas worth considering. Imperial Shrine Sessions - Anaheim California July 1st
Grand Lodge of Canada in the Province of Ontario, July 17th - 20th
Supreme Queen Visit - Miriam Temple and Zara Temple July 23rd - 24th
Honour Day for Worthy Grand Patron, W. Bro. Jim Smith, Nanoose Bay, July 29th Open Air Degree - Granite Falls, Washington August 4th
Summit Meeting - Bellingham Bay - Grand Masters of Washington, Oregon and British Columbia & Yukon, September 7th
Grand Chapter of British Columbia and Yukon, Nanaimo, September 20th - 22nd
Ferndale Lodge, Hands Across the Border, Ferndale, Washington, October 5th
Western Canada Conference, Canmore, Alberta, October 10th - 12th
Consistory Reunion, Scottish Rite, Vancouver, October 19th
Reception of Grand Master by Jobs Daughters from Vancouver Island, Victoria, October 20th
Order of Secret Monitor, Constitution of Victoria Conclave, October 28th
International Night, Lafayette Lodge No. 241, November 1st
Grand Lodge of Oklahoma, Guthrie, Oklahoma, November 10th - 12th
Shrine Ceremonial, Vancouver, November 23rd - 24th
Installation of San Juan Lodge No. 175, Friday Harbour, December 1st
Grand Lodge of Alaska, Fairbanks, February 7th - 9th
Conference of Grand Masters of Masons of North America, Louisville, Kentucky, February 14th - 19th.
Included Western Conference of Jurisdictions California, Oregon, Washington, Alaska, Hawaii, February 14th
Royal Court of Amaranth Annual Communication, Richmond, February 28th
Grand Sessions, International Order of Job's Daughters, March 20th - 22nd
All Canada Conference, Winnipeg, March 27th - 29th
Meeting of Grand Masters of Manitoba, Saskatchewan, Alberta and British Columbia & Yukon, Maple Creek Saskatchewan, April 22nd
Grand Lodge of Massachusetts 275th Anniversary, May 2nd - May 5th
Grand Master's Tour of Scotland, May 5th - May 22nd
Grand Lodge of Manitoba, June 6th - 8th
Grand Lodge of Alberta, June 13th - 14th Masonic Events - Jurisdiction Although our Book of Constitutions specifically outlines a visit to each of the Districts of the jurisdiction in a Grand Master's term, it does not specify other meetings to attend. I have on your behalf brought greetings to many concordant bodies which are present in our jurisdiction, as well as many of the Ladies organizations. In all cases I was received with dignity and with respect, and given the opportunity to speak. Several individual lodges also invited me to attend special meetings, and on occasions I invited myself to some lodge meetings. Again I was received with the proper protocol and respect and given Grand Honours. A list of special meetings I attended:- District 5 Masonic Day, Nanaimo, August 24th - 25th
Grand Lodge Officers Appreciation night, Camosun lodge, Victoria, September 17th
Victoria Lodge of Education and Research, Victoria, September 18th
Volunteer Driver Appreciation Evening, Lantzville, September 21st
Meeting with Principal Officers of York Rite, Scottish Rite, and Shrine, September 26th
Vancouver and Fraser Valley Masonic Day, Chilliwack, September 29th
Railway Night, Acacia Lodge No. 22, October 18th
Scottish Rite, Consistory Reunion, Vancouver, October 19th - 20th
Open Installation of Haida Lodge, No. 166, October 20th
Installation of Aurora lodge No. 165, Victoria, October 29th
Installation of Ymir Lodge No. 31, Salmo, November 16th
Blighty Night, Comox Lodge No. 188, Comox, November 27th
Installation of Victoria-Columbia Lodge No. 1, January 5th
Church Parade, Districts 1 and 21, Victoria, January 6th
Vancouver Lodge of Education and Research, Vancouver, January 18th
Robbie Burns Celebration, Discovery Lodge No. 149, Campbell River, January 21st
Robbie Burns Celebration, Mt. Garibaldi Lodge No. 127, Squamish, January 25th
Concordant Bodies Reception, Alliance Lodge No. 193, Vancouver, February 27th
District Deputy Grand Masters' Seminar, Abbotsford, April 4th - 6th
Officers Conference, Delta Sun Peaks, Kamloops, April 25th - 27th
Church Parade, District 5, Nanaimo, May 25th On October 20th, I gave dispensation for a special project for this year only, to permit Haida Lodge No. 166 to hold an open installation. With very careful planning, the open installation took place with about 155 in attendance. Obligations were given in a tyled lodge, while the installation of officers were presented in the open ceremony. On October 29th, I, accompanied by the Deputy Grand Master, the Senior Grand Warden, the Junior Grand Warden, the Grand Director of Ceremonies and the District Deputy Grand Master of District No. 13 instituted Excelsior Lodge UD according to the Ceremony of Institution in our Forms and Ceremonies. The event was preceded by a banquet and followed the institution, we all attended an informal gathering all held at the Vancouver Club on West Hastings, Vancouver. Special Committees This year Ad Hoc Committees were created and some continued. The Cancer Car Committee, and the We Can Help Committee were continued from last year. An Ad Hoc Committee was established to survey Masons who have been in the craft since 2002, the year of the final report from the Masonic Commission. Its report will be presented by RW. Bro. Don Stutt Chairman. A special committee was struck to begin the process of reviewing the Lodge Officers Guide, it having been last edited in 1996. The committee will spend two years on this work. A brief report will be presented by RW BRo. Grand Kitching, Chairman. A Youth Committee established several years ago continued its work. A short survey was conducted in the winter months and results will be presented to this Grand Lodge Committees It is difficult to gauge the work conducted by our committees, standard as well as ad hoc because the final reports in our advanced proceeding are no reflection of work that has been done and the time and dedication the members have given to the Craft. To you all I thank you for your devotion and commitment to our fraternity and trust that you have each gained more in serving. Grand Lodge Officers Much of what has been accomplished this year is due to the dedication of the Officers of Grand Lodge who this year worked so hard and long to support the program I proposed in June 2007. I cannot find the words to express my deepest respect and sincerest thanks for what they have done. The care you have shown in the work of the lodges, in the members, and time spent on working through problems that arose is outstanding. I trust that you will continue to support your successors as well as return to lodge meetings and visits and help make our fraternity in your small part of the world richer because of the experience you have had. Thank you all for serving. Recommendations 1. That the Committee of Warranted Lodges and Lodges UD work in the immediate future to reassign some lodges in some districts where only 4 lodges are under the supervision of a District Deputy Grand Master - excluding District 4N and 4S 2. Further exploration of the publication of a quarterly magazine for craft lodges and districts to share their successful stories with the possibility of including space for concordant bodies to tell their stories of success as well. 3. The development of the Leadership Committee as a group skilled in leadership and management as well as facilitators. 4. The expansion of the Leadership Committee with members spread throughout the jurisdiction to be called upon to help lodges in their planning. 5. Continued development and expansion of the website with educational material as well as connections to other lodge and district websites. 6. Establish the Achievement and Recognition Award Program as a program of Grand Lodge. 7. Connect more with community as individuals and as lodges, or districts. New Masons are being influenced in their decision to join Freemasonry from two main areas, family connection and tradition, and colleagues at work. 8. A Ceremony of Rededication of a lodge to be included in a future edition of Forms and Ceremonies. 9. Planning of Officers Conferences in the future in a stated period of time and at various locations. Conclusion So this year comes to a close. It has been a wonderful highlight of my life and I was so happy to share it with Chris my wife who was always there helping me with travelling arrangements, and checking that I had everything I needed for the travels and visits. And to you all, so many of you encouraged me and the year of work. Thank you for giving me this opportunity to serve. To the Grand Master-elect I offer you my full support as you now embark on the next year. Brethren all, thank you.