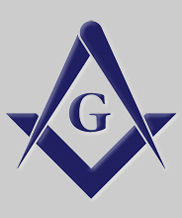 For information on Freemasonry in this jurisdiction, view the British Columbia & Yukon information and resources page. Queries of a general or internet nature may be directed to the Grand Lodge webmaster.
Charting your Masonic Course
Grand Master's Annual Address:-
June 18, 2011
---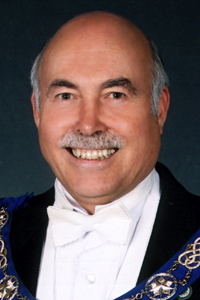 MW Bro. J. Alan Cross,
Grand Master 2010-2011

What a year this has been! As I stated at our installation in Kamloops last June, I am a simple man who just wants to give back to his beloved fraternity as much as possible. Being installed as your Grand Master was so very rewarding, but not nearly as rewarding as the year which has just passed so quickly. When I was elected Junior Grand Warden four years ago, I was told by my good friend, MW Bro. John T. Harper, to get ready for a "rocket ride". He was, as he usually is, very succinct in his description of the terms leading up to, and especially that of, Grand Master. To say the least, this year has been the most memorable of my life. Losing Moya, my wife of almost thirty-six years, just weeks after becoming your Grand Master, while not unexpected, was still devastating. Moya had been diagnosed with breast cancer just days following our Grand Lodge Communication in Prince George. She was a fighter and went through three courses of chemotherapy after surgery, but to no avail. I have made it a point to encourage all of our brethren--and hopefully their partners--to take advantage of our wonderful health care system to keep them apprised of their physical health. As I have repeatedly stated, don't do this for yourself, but do it for your loved ones. As your Grand Master I am not only the head of the Craft in this jurisdiction, but also the unofficial ambassador of this jurisdiction to all other Grand Lodges. In this capacity I have had the pleasure of meeting so many distinguished brethren from all over the world. I attended Grand Lodge Communications in Ontario, Alaska, Alberta and Manitoba plus the Conference of Grand Masters in North America held in Denver. While in Denver, we were pleased to learn that our jurisdiction has won the competition to host this event in Vancouver in February 2015! I will be attending the next three conferences to keep up to date and promote our opportunity to show the world of Freemasonry our world class city. In July I attended the International Imperial Shrine Convention in Toronto. My hosts were our own Gizeh Temple. We are most fortunate that Gizeh is our only temple jointly sharing jurisdiction over British Columbia and Yukon. We were so pleased to see Illustrious Sir George Mitchell of Ontario Installed as Imperial Potentate. One of the highlights of this event was a tour of the Ontario Legislative Building at Queen's Park led by the Speaker of the House - a brother--as well as another brother from the Government side of the house. Their Legislature is well decorated with many works of art by famous Canadian painters, including the Group of Seven. In my travels throughout our jurisdiction, I have been pleased to meet a good percentage of our membership. We have had twenty-five district meetings - including two combined meetings. Attendance in our district meetings ranged from around thirty to over 160 in one! As well as our district meetings I had the distinct pleasure of attending a number of lodges to witness the conferral of Master Mason degrees, plus several installations of officers. The couple of truly surprise visits were rewarding--and I hope were not too stressful for the Worshipful Masters. A short while ago I heard that one lodge, Kitselas No. 123 in Terrace was raising their thirteenth brother in the last twelve months. Being curious and wanting to find out how a lodge in a smaller centre could be so successful, I flew to Terrace to witness this event. The brother being raised is a sergeant in the RCMP, one of one of several RCMP officers raised this year. Did I find the "Holy Grail"? No, but I did find a group of brethren who are committed to their lodge, and are truly having a great time and are communicating that "happiness to others". Big screen televisions are now in a number of lodge banquet rooms, and at least one in the lodge room. Is this an innovation in Freemasonry? Perhaps, but if it brings in interested men, then I am pleased! The brethren of Kitselas Lodge often congregate at their lodge building to watch special events (sports etc.) on their big screen and are able to invite non-masons, their ladies and children into this social activity! We continue to lose a fair number of brethren to the Grand Lodge Above. At times I felt that I was the "Grand Mourner", as we attended a number of memorial services for so many dedicated freemasons. The Great Architect of the Universe is blessed to have so many great brethren to be with Him today! My theme this year was "Charting your Masonic Course" and implied planning. Not just short term, but long term and strategic planning. I had a lapel pin struck with the square and compasses overlaid on a compass rose, and extending my theme into a nautical one. Living on an island, it is difficult to plan anything without referring to a ferry schedule. Over the past several years I have been blessed with being able to take several cruises as well. I alluded to some of my travels during my visits. At Kamloops we showed a preliminary copy of a DVD which we have had produced for use of lodges in the process of gaining new members. I wish to thank the several lodges and building societies who contributed financial support to see this project through to its conclusion. By this point most lodges have received their copy of the DVD, and are using it already. We hope that this will assist you in improving our membership numbers. This year our Grand Secretary put together a brochure for guarding the west gate, to aid lodges in providing an idea to spend more time in interviewing prospective members, and ensuring that the men that apply for membership are well versed in what is required of them upon joining a lodge. I look forward to seeing a great body of freemasons in Langley in June, to be present at and witness the work of your Grand Lodge in its 140th Annual Communication. Thank you to every one of our Grand Lodge officers this year. Without your dedication and assistance, the experience would have not been possible.