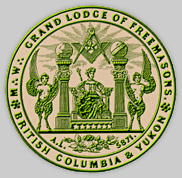 For information on Freemasonry in this jurisdiction, view the British Columbia & Yukon information and resources page. Queries of a general or internet nature may be directed to the Grand Lodge webmaster.
Let your light so shine
Grand Master's Annual Address:-
June 22, 2007
---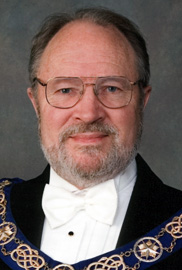 MW Bro. Isaac Brock Brower-Berkhoven,
Grand Master 2006-2007

I wish to thank you all for being involved with the Masonic Fraternity and for participating in this, our 135th annual mandate. I would like to thank all the brethren who have accepted appointments and most particularly the elected officers, congratulations! I wish to extend thanks: to my wife who has been with me virtually everywhere I've travelled over the past seven years; to my sponsor into the Craft, VW Bro. Nick Wengreniuk and to the two Brethren of North Star Lodge No. 167, RW Bro. Don Wrightman and RW Bro. Peetee Thornburn (the boss Clown) who have continued to sponsor me in this journey to become your 136th Most Worshipful Grand Master. Many of you already know me from my career as a submariner in the Canadian Navy or from my career as a civilian in a submarine engineering occupation, i.e., West Edmonton Mall Submersibles. Others of you know me as a freemason, a Scottish Rite or York Rite freemason, and some of you may know me a "Brockli" the Gizeh Shrine freemason Clown, Others may know me as a freemason Cancer Car driver or as a guest lecturer in the various lodges where I have been invited to speak. Some of you will have an opportunity to get to know me now as the Immediate Past Grand Master. I became aware of a masonic relationship in my family when I used to assist my uncle clean up Composite hall and in helping my grandmother and aunts preparing lunches for "Star"—but nobody said a word. Of course I didn't ask either! Then, through a Shrine freemason in Victoria, who came to my house to extend the helping hand of the Shrine, to my little girl of six who had developmental scoliosis and required help. One time when I was home from sea, the Shriner came over to see how things were going and when I asked, "How could I help? Could I give him some money?" "No," he said "one day you'll find a way." Well, I did, but it took me twenty years. Another time when I was working at ISE Ltd. another brother told me he had seen me marching in the Armistice Day parade with the Navy vets and I asked, "How so?" He told me was in the Shrine pipe band—but no one said anything this time either and neither did I ask. I had been at another Armistice Day Parade in Edmonton, when a brother, with whom I was working, asked me if I knew anything about the freemasons. "No," I responded. "Would you like to learn about them?" "Yes," I said. My application having been accepted, I was initiated, passed and raised in Evergreen Lodge No. 166, Edmonton Alberta. Now then, immediately after being raised I was given an application to join either of the concordant bodies, so I joined the Ancient and Accepted Scottish Rite, Edmonton Valley and later Mizpah Chapter Rose Croix and the Alberta Consistory. Directly on becoming a 32 degree Scottish Rite member, I received an application to the Shrine of North America, which I presented to VW Bro. Dick Benzies when I took a job in British Columbia. VW Bro. Dick Benzies, on receiving my application, said "Well, young man, you might as well come and join my lodge in New Westminster. We do the same work as you and we need a Junior Deacon." And so I begian my affiliations in BC. Now, let's talk about what I believe in: I believe in full masonic family participation, which for me includes my mother lodge; Craft lodges; Ancient and Accepted Scottish Rite—in which I am a member of the Fraser Valley Lodge of Perfection as PTPGM—the Fraser Valley of Rose Croix and BC Consistory; Royal Arch Freemasonry, Westminster Chapter No. 6; Order of the Eastern Star Royal City No. 7 and Order of the Secret Monitor Conclave No. 7; and Van Zor Grotto. As well, I have a close association with Job's Daughters as I have sponsored two Honoured Queens from my family, and Daughters of the Nile in which my wife and one sister are members. I am the Shriner of Note. I have a brother in the Craft as well: my son, Russell, in Goldstream Lodge No. 161 I believe in proper solicitation. Have you considered asking the question: "Have you ever thought of petitioning for membership in Freemasonry?" or "Do you know anything about Freemasonry?" or "Have you ever heard about Freemasonry?"—followed by "Would you like to know something about Freemasonry." I believe and participate in theme nights: Clown degree team, Scottish degree team; RCMP degree; 1765 degree night; Past Masters degree team; and buddy nights in your lodge. I believe we need three additional Masonic Fraternal Centres: similar to Victoria or Kamloops, one in the Lower Fraser Valley, one in the Upper Fraser Valley and one on the North Shore to give us viable, paying properties which sustain growth and have commercial value for cash flow; I believe that every brother should be a member of the lodge upon initiation. I believe we should give Grand Honours in the degree of the lowest ranking brother present. I believe we should have open installations of brethren in lodge. I believe in attending and participating in local community parades, with regalia, and having open house, following the parade, at the lodge. This includes November 11th cenotaph ceremonies; I believe and practice proper marketing and advertising through community and local newspapers. I believe in a properly run festive board with all the marks of respect paid and responded to and, by all means, always toasting Grand Lodge whether there is a Grand Lodge officer present or not. I believe in holding open house for New Year's Day levees. I believe in and support the mentorship programme. I believe in and support the leadership program and I believe and support life memberships, so we can avoid suspensions for non-payment of dues. This is what I feel needs immediate and necessary attention: 1. All Entered Apprentices to become full members of the Lodge; 2. All lodges to open through three degrees, pass the word on closing, and conduct business in the degree of the lowest ranking brother; 3. Add education to the order of business early in the evening so that it becomes the number three order of business and thereby the priority piece of business; 4. Remove the penalties or change nomenclature to read "symbolic"; 5. Ban Sunday morning practices at least until after the hour of 1300 (after all we do have seven evenings and all day Saturday) so that we are not seen to be competing with religious orders, thereby allowing brethren to spend quality time with their families; 6. Allow only elected officers to be the voting members of each lodge at all Grand Lodge communications, no grandfather clause for Past Masters . 7. I believe in making adjustments to meet the requirements of the day. I love the Craft and will do my utmost to serve my Grand Master in his programmes.