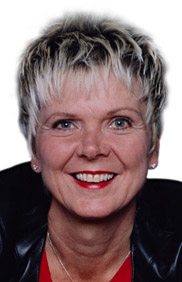 Patricia King

Many evangelical Christians have accused Freemasonry of being a religion but it is only recently that the claim has been made that a freemason calls down a curse on himself and his family for generations.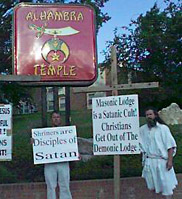 Brian O'Connell witnessing.
The masonic curse?
---
IT IS IRONIC that modern Freemasonry, a product of the European Enlightenment—and a promoter of rationalism and the empirical study of nature and science—should be accused of laying a curse on its members and their families. The very thought is irrational and superstitious. But that's the claim of a few evangelical Christians. They further claim to have a prayer to break the masonic curse—a curse that can plague anyone who has been a freemason or is related to a freemason. The curse, they say, can take the form of ill health, poverty or any of life's misfortunes. It can be broken either by a lengthy prayer of renounciation1 or reciting parts of masonic ritual backwards. 2 The claim of a masonic curse rests on so many errors and misinterpretations of Freemasonry that it can only be refuted by directing the interested reader to the many articles found in our Anti-masonry Section. Suffice to say that the foundation of this claim is an erroneous belief that Freemasonry is a religion. It is not. History Where did this irrational concept come from? Although Chester and Betsy Kylstra were promoting the use of prayer in 1985 to relieve the "Sins of the Fathers and the Resulting Curses (SOFC); Ungodly Beliefs (UGB); Soul/Spirit Hurts (SSH); and Demonic Oppression (DO)", they don't appear to have singled out any particular masonic curse.3 The first documented claim of an ancestral masonic curse appears to have been made in Jack T. Chick's The Curse of Baphomet (1991) and then by Noel and Phyl Gibson in 1992.4 From there the idea was picked up by Yvonne Kitchen in Australia.5 At about the same time it unwittingly gained international attention in Christopher Knight's and Robert Lomas' The Hiram Key.6 Dr. Selwyn Stevens, president of Jubilee Resources International, in New Zealand, will sell you a $23 video or $12 book on the topic.12 Earlier Christian anti-masons had claimed that freemasons were damned, but references to a specific masonic curse are not available. In 2002, Brian O'Connell, of Crystal River, Florida, proclaimed that "the Masonic Lodge is a Satanic Cult", and when a freemason joins the lodge he puts "a curse on his home and family": the "Masonic curse".7 In 2004, Chuck D. Pierce and Rebecca Wagner Sytsema reported that not only is there a masonic curse, but that it can become attached to household items:
"We looked at many antiques she had collected throughout the years. While antiques are often laden with demonic oppression, I knew that none of these objects was the problem. Then the Lord led me over to a glass bookcase. I knew in my spirit that there was something inside that needed to go. I reached up to the top shelf and pulled out a copy of the handbook for thirty-second degree Masons. Cathy had no idea where the book had come from or that it was in her home. I knew that the book had to be destroyed, so we built a fire and burned it. That act was a turning point in Cathy's life. It set in motion a chain of events that led to the breaking of a Masonic curse in her bloodline. As the curse was broken, the gripping, overwhelming depression that had been Cathy's constant companion completely let go of her mind, and she has walked in freedom ever since. Finding that book was a key to exposing Satan's stronghold"8
Patricia King, host of Extreme Prophetic Television, and promotor of the late fraud, Alberto Rivera, also claims to be able to break the "masonic curse" but without lengthy prayer or burning books, simply by clapping her hands.9 There are those who see the masonic curse as something that can be broken through prayer, but also see its influence extending beyond a freemason's family to his community and country. And ascribe to it a legal status in the United States:
"If you were once a Mason or are a descendent of a Mason, we recommend that you pray through the following prayer from your heart, firstly for yourself and your family, and then secondly for your city and America" ""Father God, we also proclaim in the Name of Jesus Christ that Satan and his demons no longer have any legal rights to mislead and manipulate the person/s seeking help to exit Freemasonry in America."10
Unfortunately, breaking the masonic curse is a sometime thing. Fortunately the application of money will help:
So the demonic forces can " latch" on to these areas and that is why some born again people continue to suffer problems time and time again. The book is called " freemasonry-death in the family " by Yvonne Kitchen and is available from freedom ministries in Kent for around 16 pounds excl postage.11
It is easy for one to cynically conclude that such claims of a masonic curse are just another way for Christian ministries to frighten money out of their flocks. It is more probable that they are sincere in their belief in demon-possession and generational curses. And that is truly frightening.
---
1
.

"Prayer of Release for Freemasons and Their Descendents", Jubilee Essential Resources, Wellington, New Zealand. www.livingbreadcrumbs.com (Accessed 2006/10/20). The lengthy prayer to break the masonic curse first appeared in Unmasking Freemasonry, Removing the Hoodwink, Selwyn Stevens. Wellington : Jubilee Publishers, 1999. "I destroy the curse of violence and death off my body, and the oath of taking Masonic vengeance upon those betraying Freemasonry's secrets." Freemasonry. All you Need to Know as a Child of God Kanaan Ministries, May 8, 2005. p. 19; also Freemasonry on Trial, Evans Nicholson. Choosing Truth Ministries, 1995, Updated 2003. p. 139. www.ctmin.org. "Prayer of Release For Freemasons And Their Descendants," 1998. 2.

Uncited 3.

Unmasking Freemasonry. Provided by Healing House Network. "This Integrated Approach to Biblical Healing Ministry was revealed to Chester and Betsy Kylstra in 1985 : Four Problem Areas : Sins of the Fathers and the Resulting Curses (SOFC); Ungodly Beliefs (UGB); Soul/Spirit Hurts (SSH); Demonic Oppression (DO)." "The nominal charge for personal RTF ministry is $750 per individual and $1500 per couple." Cited at http://www.phw.org/phwnl-12.htm (Accessed 2006/10/22) www.healinghouse.org/pubdownloads/MasonicPrayer.doc May 9-10, 2003 4.

Although copyright 1991, it may have actually been printed years earlier. "If you or your ancestors have been in Masonry, you may be under a generational curse." www.chick.com accessed 2006/11/21. Also see Noel & Phyl Gibson, Deliver Our Children From the Evil One. Sovereign World Ltd. P.O. Box 777, Tonbridge, Kent TN11 9XT, England, 1992. How can children be demonised? How can parents defend their children against satanic attacks? These and many other questions answered including how to deal with the hereditary curses of Freemasonry in members' children and grandchildren. Cited in Freemasonry On Trial, p. 163/192 5.

Yvonne Kitchen, Freemasonry, Death in the Family. Victoria, Australia : Fruitful Vine, 1997. ISBN 0-646-34807-8. "generational curses". 6.

Christopher Knight, Robert Lomas, The Hiram Key. London : Arrow Books Limited, 1997. (Copyright 1996). ISBN : 0 09 969941 9. p. 3.
"The anti-Masonic lobby is constantly at work to prove supposed misdeeds, and we have had first hand experience of this. A born-again Christian friend of Chris's recently stated that he was taking up a counselling role within his church group. Upon enquiring whom he was intending to counsel, I was horrified to hear the reply, 'Those suffering from Masonic curses.' 'What is a Masonic curse?' I asked, without telling him of my connection with the Craft (as Freemasonry is called by insiders). 'Masons have to swear allegiance to one another at the expense of all others, even their families. If they fail, they have curses brought down on them which create terrible suffering to them and those around them.'"
7
.

Diary entry for 2002/05/27 : "Michael told him that if he didn't repent and get out, that he and his family would be cursed!" crossbearer-brian.tripod.com/id191.htm (Accessed 2006/10/22) 8.

Chapter One : "Spiritual Life, Liberty and Freedom" Protecting Your Home From Spiritual Darkness. Chuck D. Pierce and Rebecca Wagner Sytsema regalbooks.com/PDF/protect_your_home.pdf Created September 28, 2004. 9.

Video clip : www.extremeprophetic.com (Accessed 2006/10/18) 10.

Prayer to renounce Masonic vows, and to break the Masonic curse. Raleigh, North Carolina : Capitol Area Prayer Team, 2002/11/21. home.earthlink.net/~ncintercession/materials.html (Accessed 2006/10/17). 11.

John Randall, Epping, UK : Epping Forest Church, 2003. eppingforestchurch.i12.com/testfm.html (Accessed 2006/10/26). 12.

Dr. Selwyn Stevens also appears to have accepted a hoax, initiated by this website on 1997/05/26, when he claimed that the masonic tradition of referring to calendar years in A.L., Anno Lucis, meant "in the year of Lucifer." See : "Report on Selwyn Stevens "Spiritual Deceptions" seminar on Freemasonry, St. Luke's Episcopal Church, Seattle, Washington, September 14-15, 2002." by David S. Julian masonicinfo.com/stevens.htm [accessed 2007/04/18]