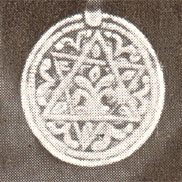 Symbols mean what the user wants them to mean, and history demonstrates that meanings can often change. While the pentagram is a clear example of this, a related symbol, the hexagram, also styled a Solomon's Seal or Star of David, is also noteworthy.
ANTI-MASONRY REFUTED
---
ANTI-MASONRY FAQ
---
THE PENTAGRAM
---
The Bedouin are an Arabic-speaking, and traditionally nomadic people, of the Middle eastern deserts, especially of Arabia, Iraq, Syria and Jordan. Tunis-based photographer J. Garrigues produced several series of tinted photographs in the late nineteenth and early twentieth centuries, titling the subjects Bedouin when often they were Berber or other North Africans. These postcards catered to the Orientalist market for "French postcards".
---
"A Bedouin Mother and Child", photograph by J. André Garrigues. (1919?) Found in Vancouver Public Library Image Bank, Vancouver, Canada. no provenence.
THE PENTAGRAM | HEXAGRAM INDEX