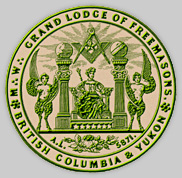 Annual Communication Grand Lodge A∴ F∴ & A∴M∴ British Columbia & Yukon Prince George 2009

Walk-in registration will commence onsite at 11:00 am on Thursday, 18 June.

GUESTS OF GRAND LODGE

Do not register online: contact the Grand Secretary.

REGISTRATION PROBLEMS?

Contact the Registrar: R.W. Bro. Neil Weller General concerns: Registration Committee All information is for the use only of the Grand Lodge of BC&Y and in accordance with the Personal Information Privacy Act (PIPA) 2004/01/01. Privacy Officer: M W Bro. James C. Gordon, Grand Secretary.