Robin Hood, Prince of Thieves (2010)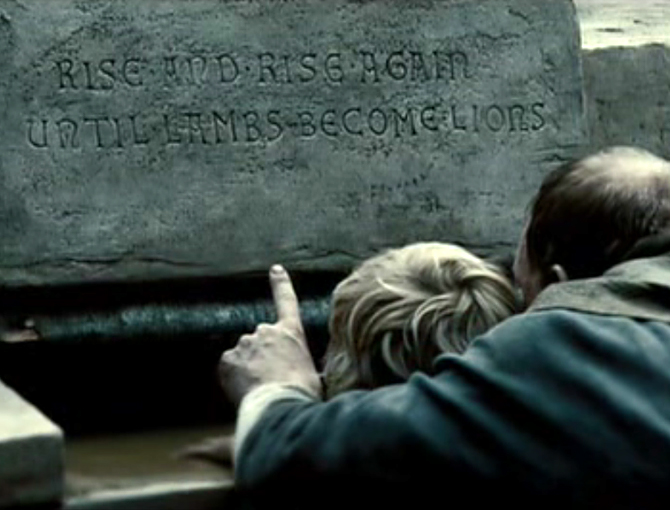 There are three allusions to Freemasonry, or at least stone masonry, in this film. It is a bit of a stretch, but not impossible to consider that the compasses seen early in the movie were intended as a foreshadowing of the revelation that Robin's father was a stone mason. Sir Walter: "Your father was a stonemason. Is that pleasing to you?"
Robin: "Yes, t'is"
Sir Walter: "But he was more than that. He was a visionary."
Robin: "What did he see?"
Sir Walter: "That kings have a need of their subjects no less than their subjects have need of kings. Dangerous idea. Your father was a philosopher. He had a way of speaking that took you by the ears, and by the heart."[01:45:20] Robin then remembers his father saying: "None of these things can be written down, Robin. You must commit them to your very soul. This is the science of memory" [01:46:00] Reading from a stone inscription, Robin reads: "Rise and rise again, until lambs become lions." Not a masonic sentiment, the inscription is actually excerpted from a poem by American religious leader, the Rev. Bhagavan Friend, born John Lee Douglas (1943-2012). Walter continues to explain to Robin that his father was an early advocate of democratic ideals and had written a charter of rights. "Finally, hundreds listened, thousands who took up his call for rights for all ranks, from Barons to serf." As the movie concludes, King John outlaws Robin, referring to him as "that mason's son." [02:24:00] Whether any of this was intended as an allusion to Freemasonry, only Ridley Scott and Brian Helgeland know for sure. Like all such allusions found in pop culture after the mid 1990s when the internet became popular, it also appears to be little more than a cynical marketing ploy. (Also note the gratuitous appearance of the pentagram. [01:32:00]) Robin Hood, Prince of Thieves (2010). Directed by Ridley Scott, written by Brian Helgeland. Russell Crowe, Cate Blanchett, Max von Sydow, William Hurt, Mark Strong, Oscar Isaac, Danny Huston, Eileen Atkins, Mark Addy, Matthew Macfadyen, Kevin Durand, Scott Grimes, Alan Doyle, Douglas Hodge, Lea Seydoux. USA | UK, English | French, 156 min, Dolby, Colour.