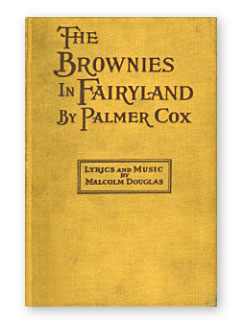 The Brownies in Fairyland,
by Palmer Cox
Lyrics and music by Malcolm Douglas. New York, The Century Co.: 1925 [118 pages 5" X 7 5/8"].

Chorus ofBrownies
"We're a Band!"
I
We're a band!
Heart and hand,
Coming fresh from Brownie Land!
All for fun
Round we run,
Ev'rywhere beneath the sun!
In the night
We delight
To come forth and show our might;
Hide away
In the day;
That our motto is alway!
Light of heart
When we start;
When returning, just as smart;
To the Pole
Far we stroll,
Where the icebergs crash and roll;
To the strand
Where the sand
Rich with gold invites the hand;
To Cathay
Or Bombay,
Or where Pharaoh had his day!
pages 16-17.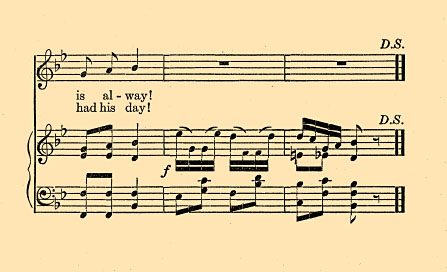 PUBLISHER's NOTE
There is no restriction as to the production of this contata by amateurs, and it is hoped that it will bring much pleasure to the thousands of children who have learned to love Mr. Cox's Brownies.
THE CENTURY CO.