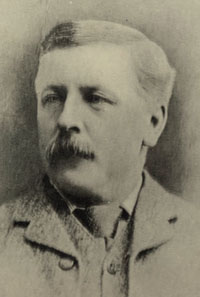 Alberta Folklore and Local History Collection Accession No: 96-93-428
1838 - 1927 Playwright and poet, Charles Mair is noted for the blank-verse drama Tecumseh (1886), a collection of his poetry,Dreamland and other Poemsand his formation of the Canada First movement. His Through the Mackenzie Basin (1908) detailed the negotiations which led to the transfer of the Hudson's Bay Territories and the Treaty Commission of 1899. Love's Empery O Love, if those clear faithful eyes of thine
Were ever turned away there then should be
No heav'nly looks to take the gloom from mine,
Nor any hills, nor any dales for me,
Nor any honeyed cups of eglantine,
Nor morning spilth of dew on land or sea.
No sun should rise and leave his eastern tent
To wake the music of the rambling wave,
Nor any freshness of the West be seen
To sweep away night's savours of the grave.
But, when I gaze into those fadeless eyes,
Methinks I am in some mysterious land,
Where far-off seas take colour from the skies,
And voiceless on a mountain-top I stand. Freemason Source: Freemasons Who Made a Difference. Poem found in A Century of Canadian Sonnets, Burpee, Lawrence J. Burpee, ed. Toronto : The Musson Book Company, Limited, 1910.